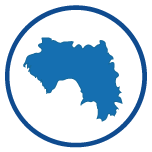 Guinea
Started: March 2014 / Ended: June 2018
Building on efforts begun under USAID's predecessor Maternal and Child Health Integrated Program, MCSP supported Guinea's Ministry of Health (MoH) to improve the quality and availability of reproductive, maternal, newborn and child health (RMNCH) services. This included strengthening pre-service midwifery and medical education, and integrating activities and services for the prevention and management of gender-based violence within RMNCH services.
Beginning in November 2014, MCSP's Ebola Response Programs also addressed infection prevention and control practices in facilities through training, supportive supervision, and complementary monitoring and evaluation. At the community level, we supported communities and local leaders to combat Ebola transmission through improved contact-tracing, intensified social mobilization, and technical assistance to district health teams.
The Restoration of Health Services Program continued the challenging work of mitigating the second-order impacts of the Ebola outbreak, which had devastated the country's health care system, while also institutionalizing practices to prevent future outbreaks. By expanding the number of integrated and high-quality RMNCH services to an appreciable number of health facilities and communities, MCSP strengthened health services at the district level to create systems more resilient to disease outbreaks and public health crises.
To read a summary of our health systems strengthening work in Guinea to date, click here.
Intervention Areas:
Country Data
---
MCSP analyzed coverage disparities across RMNCH indicators for MCSP program countries. Click below for country-specific data.
Select Health and Demographic Data for Guinea
GDP per capita (USD)
824.985
Total Population
12,717,176
Maternal Health
Maternal Mortality Ratio (deaths/100,000 live births)
720
Skilled birth attendant coverage
72.4%
Antenatal care, 4+ visits
56.6%
Newborn Health
Neonatal mortality rate (deaths/1,000 live births)
25.1
Infant mortality rate (deaths/1,000 live births)
58.3
Child Health
Under-five mortality (deaths per 1,000 live births)
89
Treatment for acute respiratory infection
37.3%
Oral rehydration therapy for treatment of diarrhea
44.2%
Immunizations
Diphtheria-pertussis-tetanus vaccine coverage (3 doses)
45%
Family Planning
Modern contraceptive prevalence rate
7.8%
Total fertility rate
4.855
HIV
HIV prevalence, adult
1.5%
ART coverage, adult
37%
Health Systems
Density of physicians (per 1,000 population)
0.075
Density of nurses & midwives (per 1,000 population)
0.368
Total Health Expenditure per capita (USD)

25.134

Sources: All data are from the World Health Organization, World Bank, and United Nations Children's Fund.