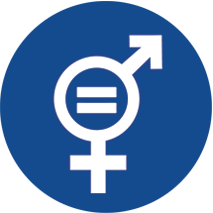 Gender
Harmful gender norms inhibit women, girls, men and boys from accessing and using health information and services. Gender inequality contributes to preventable deaths and illness in women and men throughout the life course. It also hinders the use of contraceptive methods and women's ability to decide if, when and how often to become pregnant; the ability to deliver safely in a facility or with a skilled birth attendant; and the ability to take a child to health services. Additionally, health services often exclude men, unmarried clients, adolescents and lesbian, gay, bisexual, transgender and intersex clients due to discriminatory gender attitudes among providers. Survivors of gender-based violence (GBV) lack access to timely, appropriate care, particularly HIV and pregnancy prevention, as well as empathetic counseling and referrals.
When women are empowered to make decisions about their bodies and their futures, studies show they and their families are healthier, happier and more prosperous. MCSP worked to mitigate gender inequalities that act as barriers to optimal health outcomes for women and girls: lack of women's knowledge, choice and decision-making power; GBV and other discriminatory treatment; limited male engagement in reproductive, maternal, newborn, child and adolescent health (RMNCAH); mistreatment during services; and negative gender attitudes faced by health workers themselves that impact service quality.
MCSP worked with health providers and facilities to ensure that all people can avail of health care services that guarantee equal access to respectful care for clients of any gender and age, ensuring accessibility, privacy and confidentiality, respectful and informative provider-client interaction, and appropriate infrastructure and commodities. Gender-sensitive services ensure that clients receive the highest quality of care, where they can access services equally; be empowered to make full, free, and informed choices about their health care; participate fully in decision-making about their own health; and be given the opportunity to include their partners and families if they choose to do so.
MCSP addressed gender through four technical approaches: