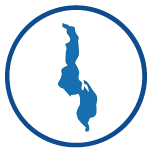 Malawi
Started: July 2014 / Ended: May 2018
In two priority districts, MCSP in Malawi worked to successfully introduce two vaccines: Measles Second Dose and the Inactivated Polio Vaccine. The Program supported the Ministry of Health/Expanded Program of Immunizations (MOH/EPI) in all areas of roll out to ensure that these new vaccines helped to protect children and reduced the burden of disease.
This included efforts to improve the capacity of managers and service providers at all levels to manage and provide high-quality immunization services. We also strengthened the routine immunization system by improving planning, monitoring, and vaccine and cold chain management at all levels – national, zonal, district and health facility.
In the same priority districts, MCSP worked with the MOH/EPI to increase family planning and immunization integrated service delivery in facilities and surrounding communities. The Program also provided support to the MOH Nutrition Unit to work with hospitals to develop, adapt and reinstate their breastfeeding policies and orient staff on breastfeeding policies.
To read a summary of work in Malawi, click here.
Intervention Areas:
Country Data
---
MCSP analyzed coverage disparities across RMNCH indicators for MCSP program countries. Click below for country-specific data.