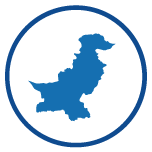 Pakistan
Started: July 2016 / Ended: September 2019
MCSP is working with the Pakistan government to help the country achieve its ambitious Family Planning 2020 (FP2020) goals: universal access to reproductive health, and a 55% contraceptive prevalence rate. The Program supports USAID/Pakistan's Ending Preventable Child and Maternal Death family planning (FP) objectives, as well, namely to:
Strengthen and institutionalize an integrated model for training on long-acting and reversible contraceptives (LARCs);
Increase access to high-quality LARCs services by training service providers;
Strengthen supportive supervision and monitoring at provincial and district levels to ensure voluntarism and informed choice; and
Accelerate an advocacy agenda for the task-shifting of first dose of injectable contraceptives to community health workers.
Across three provinces in Pakistan – Sindh, Punjab and Balochistan – MCSP operates in 22 administrative districts and one urban neighborhood (in Karachi). In 16 districts in Sindh, the Program is supplementing FP activities ongoing from USAID's predecessor Maternal and Child Health Integrated Program (MCHIP), and introducing FP activities in two additional districts.
However, while MCHIP's focus has been primarily on Department of Health facilities and long-acting reversible contraception, MCSP is expanding this work to include activities focused on:
Engaging with Population Welfare Department facilities;
Introducing the full range of contraceptive method mix; and
Building capacity of Social and Behavioral Change Communication skills.
After the phase out of MCHIP (anticipated in March 2017 in Phase I district and June 2017 in Phase II districts), MCSP will carry on the FP related activities through end of September 2017.
To read a summary of our FP work in Pakistan, click here.
Intervention Areas:
Country Data
---
MCSP analyzed coverage disparities across RMNCH indicators for MCSP program countries. Click below for country-specific data.