You have a smooth delivery, with no complications for you or the baby. You leave the hospital or health center cradling your beautiful newborn, relieved and ecstatic that you are both healthy.
But you are not out of danger yet.
The first hours and days after childbirth are the most vulnerable period for both mothers and newborns. Women are still at risk for life-threatening complications after giving birth. Globally, 45% of postpartum maternal deaths occur on the day of birth, and 66% take place during the first week after birth. Despite its heavy toll of deaths, the postpartum period – sometimes referred to as "the fourth trimester" – is often neglected.
One main cause of maternal deaths is pre-eclampsia, a disease related to high blood pressure that may occur in women during pregnancy and around the time of birth. If not promptly recognized and managed, pre-eclampsia can progress to eclampsia, which is defined as the development of seizures in a woman with pre-eclampsia.
A woman's risk of pre-eclampsia/eclampsia (PE/E) doesn't end at childbirth. In fact, any woman can develop PE/E after her baby is born, even if she did not have high blood pressure while pregnant. Women diagnosed with high blood pressure or PE during pregnancy can experience a worsening of their symptoms in the days after giving birth, including the development of life-threatening eclampsia. It is, therefore, vital to monitor every woman closely for danger signs for PE/E and other complications in the postnatal period.
"Sometimes less understood are the lifetime implications of PE/E for affected women," said Kathleen Hill, the Maternal Health Team Lead for USAID's flagship Maternal and Child Health Integrated Program (MCSP). "A history of PE/E is a major risk factor for the development of high blood pressure and for future stroke and heart attack, as well as for life-threatening eclampsia in future pregnancies."  Counseling women about these risks and the ways to reduce future risk is an essential component of quality postnatal care for women with PE/E.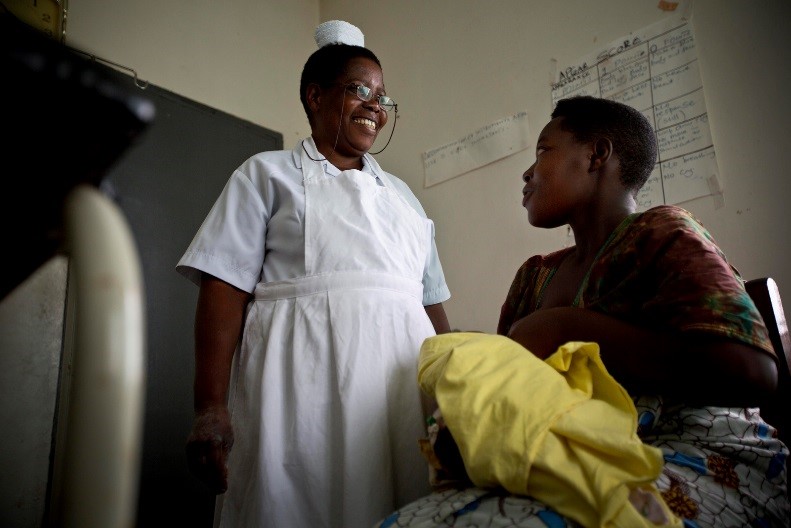 In addition to supporting quality care during pregnancy, labor and birth, MCSP works to improve the care for women and newborns during the critical postnatal period. This includes supporting the development and update of several related resources such as the World Health Organization's (WHO) Managing Complications in Pregnancy and Childbirth (MCPC) manual, which was updated in 2017 with MCSP support. Used by midwives and doctors worldwide for nearly two decades to guide their care of women and newborns who experience complications, the second edition MCPC manual includes 18 revised chapters based on updated WHO recommendations.
The revised chapter on classifying and managing hypertensive disorders of pregnancy, including PE/E, contains a new section on postnatal counseling and care. This new section aims to improve recognition and management of new or worsening PE/E in women after birth, and to strengthen the content of postnatal counseling and care for women diagnosed with PE/E. (See text box below.) A joint MCSP-WHO technical PowerPoint presentation and summary brief highlight key technical updates from the second edition MCPC manual. (The brief is also available in Spanish, French and Portuguese.)
Postnatal counseling for women with PE/E: Key messages
– Increased risk for life-threatening complications in future pregnancies
– Importance of preventing unwanted pregnancies and initiating early antenatal care in future pregnancies
– How to access safe, effective contraception of choice to prevent unwanted pregnancies
– Increased lifetime risk for high blood pressure and premature cardiovascular disease (CVD)
– Importance of continuity of primary care (beyond the postnatal period) to monitor and address CVD risk factors (e.g., high blood pressure, diabetes, obesity)
(Source: Second edition MCPC manual)
MCSP also supported an update of USAID's Postnatal e-learning course, which draws on the second edition MCPC and other resources. This course reviews evidence-based recommendations for high-quality care of women, newborns and families during the postnatal period. The section on postnatal care of women with hypertensive disorders includes guidance for monitoring and treating women with postnatal PE/E danger signs as well as counseling and caring for women diagnosed with PE/E.
An MCSP point-of-care integrated maternal and newborn postnatal care pre-discharge checklist and poster help providers assess for danger signs – such as severe headaches and visual disturbances, which can be symptoms of PE/E – in women and newborns during the postnatal period. The checklist includes essential interventions and counseling needed by all newborns and mothers before discharge, and the poster acts as a prompt for key postnatal care interventions for providers as well as for women and their families.
Close monitoring of women and newborns before, during and after delivery is a global health imperative, and is vital to improving immediate and long-term health outcomes for women with PE/E. The Program worked closely with country counterparts in several countries – including Nigeria, Mozambique, Madagascar, Tanzania and Rwanda – to support the introduction and use of the checklist in maternities, and to incorporate the updated MCPC PE/E guidelines into national policy, pre-service and in-service training curricula, supervision and mentoring, and quality improvement initiatives.
On World Pre-eclampsia Day – and every day – MCSP is proud to support global and country efforts to reduce the burden of PE/E. Together with our partners, we are preventing needless deaths and improving care for those who experience PE/E.