This article also appeared on the Crowd360 website.
Millicent Olango becomes emotional as she recalls what happened a few years ago. One week after delivering a baby boy, she returned to her place of work – Kombewa Hospital in Seme Sub-county, Kenya – to request three months of maternity leave. However, her request was denied and Millicent was told to report back to work within one month of her son's delivery.
She pleaded to extend this time to two months of unpaid leave, but ultimately had to return to work within one month or risk losing her job. According to hospital policy, only technical staff were given three months of maternity leave, while support staff like Millicent get one month.
"I don't like talking about it and it hurts me a lot," she said. "It's a very bad and torturing experience that I would not wish any woman to go through."
She knows other colleagues who have had even less time with their newborns – some none at all. Three years earlier, a casual worker at the hospital quit when she was expected to return to work immediately after her delivery.
In addition to heartache for mothers, inadequate maternity leave and knowledge gaps on maternal, infant, and young child nutrition (MIYCN) contribute to low rates of exclusive breastfeeding (EBF), miconutrient deficiencies, and overall poor health outcomes for mothers and children.
Good maternal nutrition, appropriate weight gain during pregnancy, and infant and young child feeding practices are critical to prevent all forms of malnutrition during the critical first 1,000 days of life, and to achieve the wider goal of protecting health and economic outcomes for families. Yet, despite the evidence that good nutrition during this period has a profound impact on a child's ability to grow, learn, and thrive, nutrition for mothers and children remains inadequate worldwide.
Poor maternal and child nutrition is estimated to be an underlying cause of 45% of child mortality, and contributes to 20% of maternal mortality.
Moreover, data show that rates of EBF have remained at around 41% over the last two decades, and misperceptions surrounding MIYCN continue to be an issue across the globe.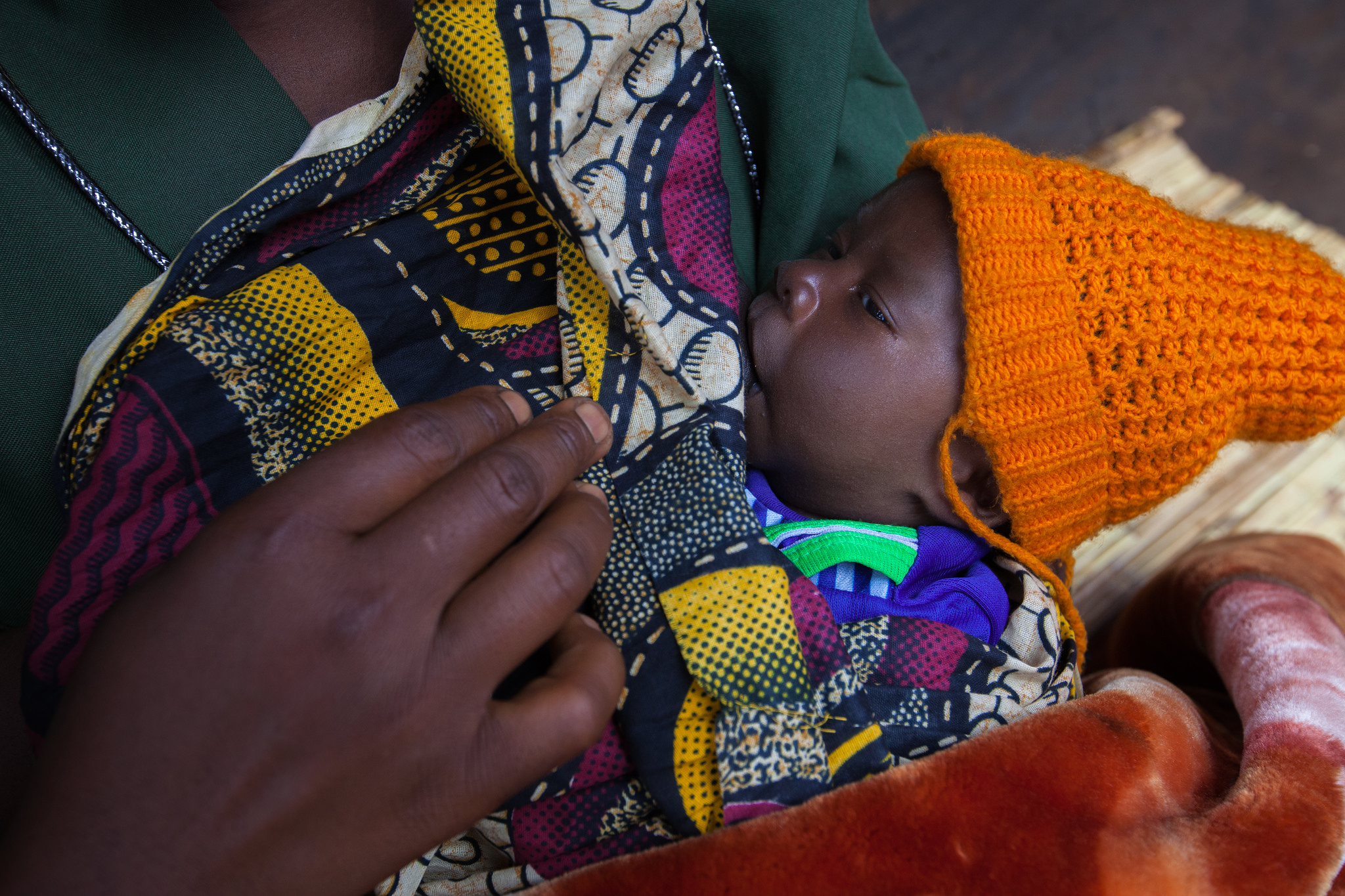 Since 2014, USAID's flagship Maternal and Child Survival Program (MCSP) has provided comprehensive support to mothers at the facility and community level to improve MIYCN in 11 countries. The Program identifies and addresses barriers to MIYCN to improve early initiation of breastfeeding and EBF in the first 6 months, support high-quality complementary foods fed at 6 – 23 months, and maternal nutrition during pregnancy and lactation, as heard from our country advisors.
Challenges to achieving maternal nutrition and EBF vary by country, as do Program approaches.
---
Voices From the Field on Obstacles to MIYCN and EBF
DR Congo: "There are major issues in countries with support to mothers to continue breastfeeding. Equally so, there are major issues with maternal diet in DR Congo, where mothers are not receiving proper nutrition and resulting in their perceived inability to breastfeed."
Haiti: "Women seem concerned with breast sagging and physical appearances after breastfeeding. This appears to be most common in urban areas. In rural areas, women think that their breastmilk is insufficient. During pregnancy, there are some beliefs about eating more often and twice as much as one would normally eat. There are other beliefs about foods to avoid, such as avocadoes (this will affect breastmilk quality, give baby diarrhea)."
Kenya: "Many mothers in Kenya do not exclusively breastfeed because of cultural beliefs, and mothers are heavily influenced by culture and family members. One major challenge to exclusive breastfeeding and continuation of breastfeeding is when mothers return to work after 14 weeks of maternity leave because the workforce does not accommodate for lactating mothers."
---
To address such barriers, MCSP recently released two new technical briefs.
Addressing Barriers to Maternal Nutrition: Evidence and Program Considerations and Addressing Barriers to Exclusive Breastfeeding: Evidence and Program Considerations for Low- and Middle-Income Countries provide a review of evidence on addressed barriers to maternal nutrition and weight gain during pregnancy, as well as key barriers that impede initiation and continuation of EBF for the full 6 months in low- and middle-income countries (in light of World Health Organization antenatal care guidelines). These briefs also explore how countries are addressing these barriers and give key considerations for program implementation.
In addition, MCSP recently published an article in the journal Maternal & Child Nutrition that looks at perceptions around breastfeeding, maternal nutrition, and weight gain during pregnancy and considerations for programs.
Our efforts on the ground are also bearing fruit.
To address the concerns of many health workers – like Millicent's – MCSP supported three sub-counties in Kenya with continuous medical education (CME) activities. The theme for the CMEs – "Breastfeeding at work, let's make it work!" – focused on work place support for EBF through benefits such as flexible working hours and three months of maternity leave.
All staff from Kombewa Hospital attended, including Evans Oloo, the hospital's Health Administrative Officer at Kombewa Hospital. After the event, Oloo advocated for implementing three months of maternity leave for all hospital staff to ensure successful EBF. The hospital also identified a room where lactating mothers can privately breastfeed or express milk, and mothers returning to work are given the option for flexible working hours until their children are six months old.
The maternity leave policy for all staff is now being implemented at Kombewa Hospital. Everlyn Awino Olunda, a support staff member, was the first beneficiary of this new policy. She plans to take her full maternity leave, and is grateful for the new breastfeeding room and flexible working hours.
"This is my third child, but the first delivery since employment in 2009," she said. "I have really appreciated the maternity leave that has given me ample time with my baby and facilitated EBF. I am now preparing to maintain lactation when I return back to work."