Boltena Kadera, 28, lives with her husband and four children in southwestern Ethiopia. After giving birth to three of her children at home, she took the advice of a Health Extension Worker (HEW) during an antenatal visit and delivered her youngest child, Semredin, at the nearby health center.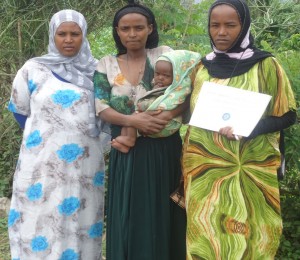 While the baby boy appeared fine at first, in his second week, Semredin he began coughing and had shortness of breath. After a week, the baby's condition did not improve, and even appeared to worsen.
His anxious parents returned with him to the health center where he was born. However, health workers said Semredin was too young to be treated at their facility and referred them to Halaba Hospital. Unfortunately, Boltena and her husband could not leave their three small children at home, and therefore could not seek care for Semredin at the hospital.
After two days, the family was visited at home by Rahmete, the local HEW. Rahmete asked to examine the baby, explaining that she had recently attended a training on treating young children with Possible Serious Bacterial Infections (PSBI). Organized by Save the Children and MCSP, the training gave Rahmete the confidence to assess Semredin.
The baby appeared very sick, she said, and strongly recommended he be taken to the health center for treatment. When Boltena explained that she had already been there and refused to return, Rahmete gave the baby an injection and a tablet. She explained that the tablets should be dissolved in breast milk for Semredin to take twice a day, and promised to come to their home daily to check on the baby's progress and to give him the remaining injections. Rahmete also counseled Boltena to breastfeed Semredin as frequently as possible.
Almost immediately, Semredin's condition began to improve. As promised, Rahmete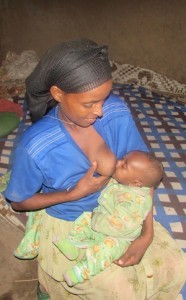 visited Boltena and her husband every day for seven days to give Semredin an injection, and Boltena continued to give him dissolved tablets twice a day. Semredin is now fully-recovered.
"Although I was initially scared of treating neonates with danger signs indicating PSBI like Semredin," Rahmete said, "the result I observed has boosted my confidence and satisfaction. The Community-based Newborn Care training I was given by MCSP and Save the Children has really enabled me to serve the community better."
Under MCSP, Save the Children implements the Community-based Newborn Care / Newborns in Ethiopia Gaining Attention project in collaboration with Ethiopia's Federal Ministry of Health, Regional Health Bureaus and Zonal Health Departments and woreda (equivalent to district) health offices in 135 woredas. The goal of the project is to reduce newborn and child morbidity and mortality and support the Ethiopian government's efforts to scale up high-impact essential newborn care interventions in communities and primary health care facilities. In the Southern Nations Nationalities and Peoples' Region, the project is implemented in 37 woredas, and has been working in the Halaba Special District since January 2015.