(This content also appeared on the Crowd360 website.)
A Midnight Labor
The tiny Munda tribe lives deep inside India's Cuttack jungle, without electricity or water, far from the nearest health post. Access to health services is a struggle.
For Geetanjali Dehuri, it was an even bigger struggle than usual. The 24-year-old went into labor in the middle of the night — the same night that local forest officials closed all movement through her region due to a herd of wild elephants passing through. Geetanjali had no way to get to the facility to deliver.
Her husband paced around their house, trying frantically to catch a steady connection on his mobile phone. Finally, he got through to an ambulance dispatch and asked them to bring Jayanti Laguhuri, their community health worker, along.
Jayanti had already had an exhausting day, having walked miles to visit another village in her region. She had visited new brides, pregnant women, husbands and other family members, inquiring about their well-being, educating them on improving their nutrition and sanitation, and offering other key health tips, from family planning to immunization dates for the village's children. Jayanti had been a community health worker for more than a decade. She was trusted — and often on speed dial — across the region.
"The hospital has all the necessary and clean instruments, and trained providers to care for you," Jayanti urged the expectant mothers that day. "They can take care of anything that goes wrong." It was a message that Geetanjali, villages away, had already taken to heart.
Animal Crossing
Jayanti was asleep when she heard Geetanjali's ambulance pull up to her house. It was well past midnight, but she quickly took a seat in the ambulance. However, less than a mile later, the forest officials stopped the ambulance: they couldn't drive farther until the elephants passed through.
It was nearing dawn by the time they were able to reach Geetanjali's hut. The new mother had already delivered. Her newborn was active and crying, but Jayanti made the decision to take Geetanjali to the hospital anyway.
She scooped the newborn into her arms and set off in the ambulance with the whole family. It took them two hours to reach the nearest health post, a 16-bed facility supported by MCSP.
"When Geetanjali was brought to the facility, her placenta had not been delivered," said nurse Kalyani Mishra. She assessed the situation quickly and managed a safe delivery of the placenta. She commended Jayanti on bringing the new mom to the hospital for timely care. Without the delivery of the placenta, Geetanjali's life was in danger.
The Youngest Member of the Tribe
Today, 3-month-old Gobinda is the youngest member of the Munda tribe — and his parent's biggest joy.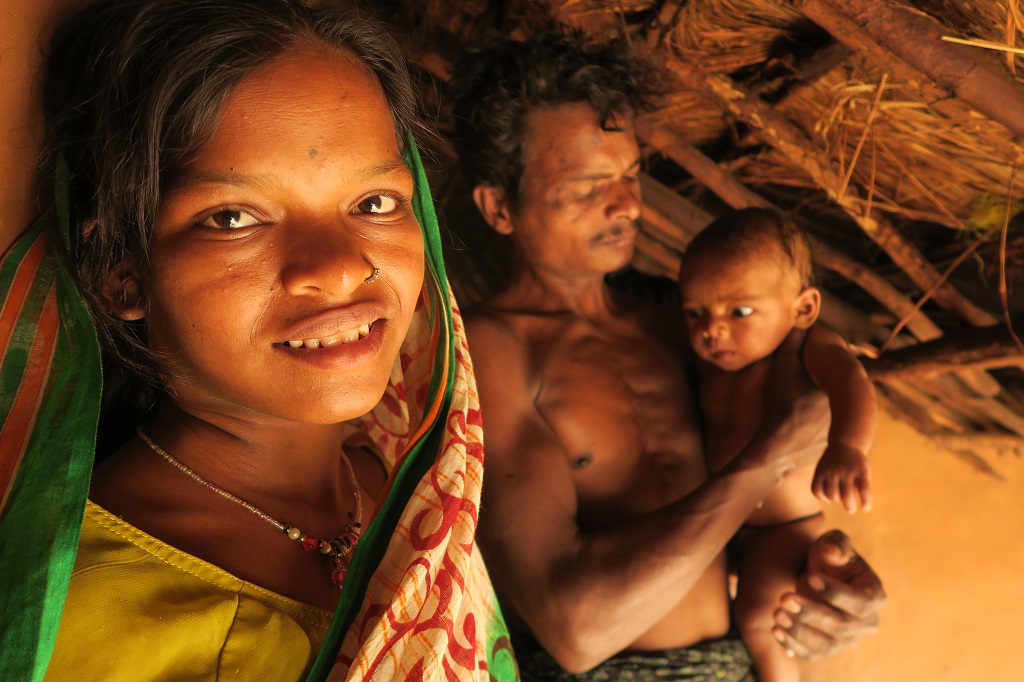 Jayanti continues to regularly visit the family since their long trek to the health facility. "Jayanti Didi [which means elder sister] has asked me to look after my nutrition, eat four to five times a day, and include green vegetables and lentils in my meals," Geetanjali says. "She has told me that I should breastfeed for at least six months. She has also shared with me information on various family planning methods. I listen very carefully to Didi's advice and follow it to the core."
In India, community health workers like Jayanti are often the closest link between the village and the public health system. Nearly 30,000 community health workers like Jayanti in two MCSP-supported states (Odisha and Chhattisgarh) are working to expand access to family planning and link women and families to respectful, high-quality care.
"When I decided to become a [community health worker], I just wanted to serve people. I had this dream since I was very young, and I am living it right now," says Jayanti.