Embaalaje district, Tigray Regional State – In this part of northern Ethiopia, much progress has been made since USAID's flagship Maternal and Child Survival Program (MCSP) began engaging faith leaders in improving the state of maternal, newborn and child health (MNCH).
Kes Melakeselam Hailemnase, a 64-year-old Orthodox priest, participated in an MCSP training on community-based newborn care (CBNC) for regional faith leaders. He described his participation in the training as an essential tool in giving him the necessary knowledge to educate community members – such as Abeba Mesele – on beneficial MNCH practices.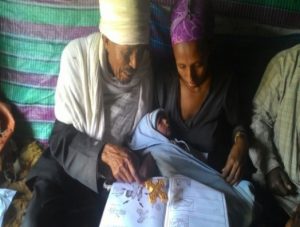 A 21-year-old mother of two, Mesele was pregnant with her second child when Kes Melakeselam approached her and taught her the importance of going to a health facility for antenatal checkups and delivery. He also stressed the need for early postnatal checkups.
"As a result, I took more than four antenatal facility checkups during my pregnancy, and gave birth to my baby at Adishuhu Primary Hospital," Mesele said. "Upon returning from the hospital, I informed the health extension worker in my [neighborhood] of my delivery and she visited me at home to check on me and my baby. Many thanks to Kes Melakeselam's advice, both my child and I are healthy."
The training also gave Kes Melakeselam a deeper understanding of the role that faith leaders can play in preventing maternal and newborn deaths. Since his training, he has reached more than 8,000 individuals with MCNH messages during regular sermons and religious festivities using the family health guide he received at the workshop. He has also oriented his peers on what they can do to improve MNCH in their own communities.
MCSP's Community-based Newborn Care/Newborns in Ethiopia Gaining Attention (CBNC/NEGA) program is supporting Ethiopia's Ministry of Health to scale-up high-impact interventions in four regional states. At both the community and facility level, the Program is reducing neonatal morbidity and mortality through demand creation, universal provision of high-quality, high-impact services, and strengthened support systems.