Join us on February 15th to learn more about the major recommendations intended to guide national policies and country-level perspectives on program implications and to highlight selected USAID-funded resources pertinent to community health worker (CHW) programs.
WHAT
Webinar to disseminate the new World Health Organization (WHO) Guideline on health policy and system support to optimize community health worker programmes and highlight additional resources, and:
Familiarize participants with the WHO Guideline on health policy and system support to optimize community health worker programmes, including the consultative process for development and major recommendations intended to guide national policies pertaining to CHWs.
Stimulate sharing of country-level perspectives on country program implications.
Highlight additional, selected resources pertinent to CHW programs that may be of interest to the audience.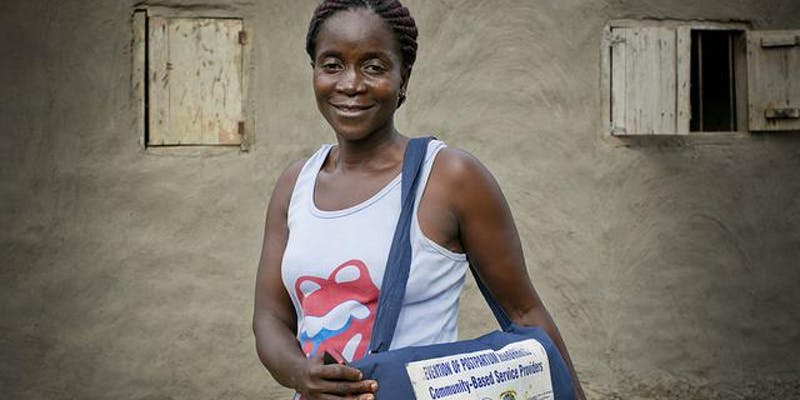 WHO
Intended audiences include: Ministry of Health policy-holders, program managers and planners; Country-level CHW program stakeholders who are part of the post-ICHC Collectivity Community of Practice; CORE Group's International Community Health Network, USAID HQ and Mission Representatives whose work pertains to CHW programming; MCSP country teams and H/Q staff; Frontline Health Workers Alliance; UNICEF Missions and partners; Health Systems Global CHW Technical Working Group members.
WHY
In 1978, the Declaration of Alma-Ata recognized CHWs as part of a diverse, sustainable team that responds effectively to the health needs of communities. The CHW guideline consolidates four decades of evidence since Alma-Ata. In 2016, WHO initiated the process of developing guidelines to improve the design, implementation, performance and evaluation of CHW programs, contributing to the attainment of universal health coverage and the health-related targets of the Sustainable Development Goals. The new Guideline provides evidence-based policy recommendations to support national strategies and investments to build fit-for-purpose community health workforces.
WHEN
Friday, February 15th
8:30 – 10:00 am EST
WHERE
Webinar viewing access will be available here.
RSVP
Click here to register for the free event. Please email Avani Duggaraju (aduggaraju@coregroup.org) with any questions you may have in advance of the webinar. For those unable to join the webinar during the scheduled time, we will record and circulate the presentation and Q&A session.
AGENDA
8:30-8:36 Welcome & Presenter Introductions
– Ochiawunma Ibe, Senior Technical Advisor, Community Health, MCSP
8:36-9:06 WHO CHW Guideline Presentation
– Giorgio Cometto, Coordinator, Human Resources for Health Policies and Standards, WHO Geneva
9:06-9:20 Questions and Answers
– Rachel Deussom, CORE Group Community-Centered Health Systems Strengthing (CC HSS) Working Group Rep / Chemonics HRH2030 Technical Director
9:20-9:40 Reflections on Guideline Implications for Member Countries and TA Partners
– Alexandre Boon, Maternal and Child Health Specialist, UNICEF/Mozambique
– Miatta Gbanya, Health Sector Pool Fund Manager and Deputy Director, Incident Management System, Ministry of Health (MOH), Liberia
– Olasford Wiah, Director, Community Health Services, MOH Liberia
9:40-10:00 Final Questions and Wrap Up
– Rachel Deussom CORE Group CC HSS Working Group Rep/ Chemonics HRH2030 Technical Director
– Ochiawunma Ibe, Senior Technical Advisor, Community Health, MCSP