This blog originally appeared on The Huffington Post.

Since 2014, PATH's Advocacy for Better Health (ABH) project has been mobilizing citizens to demand accountability for health across 35 districts in Uganda. At ABH, we focus on ensuring decision-makers fulfill their promises on a wide range of domestic health issues, including human resources for health, access to medicines and commodities, health financing, and delivery of high-quality services. Our slogan is: "Where everyone is accountable, everyone wins."
While "accountability" can mean different things to different people, at ABH it means turning up the volume of citizen voices. We achieve this by building the capacity of civil society organizations (CSOs) to advocate to decision-makers at both the local and national levels. As ABH's community empowerment officer, I have the privilege of empowering citizens with knowledge of their health-related rights and responsibilities. This enables citizens to speak out and engage their leaders on issues affecting their health and social welfare.
Our citizen empowerment and advocacy approach has brought a number of successes. Due to the vigilance of citizens, in many health facilities, health workers are no longer perpetually absent from duty. In other facilities, district officials have stationed more health workers, especially midwives, and decision-makers have committed to address gaps affecting the delivery of high-quality services. In some communities, new cadres of health care workers have begun work in facilities that were previously understaffed. All of this means better healthcare for the citizens in those communities — and a more accountable government.
Averting a health crisis by holding government accountable
In late 2015, we faced one of our greatest accountability challenges when a stock out of HIV/AIDS and tuberculosis (TB) drugs threatened health facilities across the country. Because of several factors – including a weak health supply chain system, rising drug prices due to fluctuating currency, and an unexpectedly high enrollment in the country's treatment program – the health of millions of HIV/AIDS and TB patients was at risk.
In response, our CSO partners sprang into action to develop a campaign: "Drug stock-out kills! Stop it." The campaign urged our government to address this crisis, and our coalition prioritized three actions: gathering the best evidence available; communicating one "voice;" and engaging in solution-oriented outreach with key decision-makers.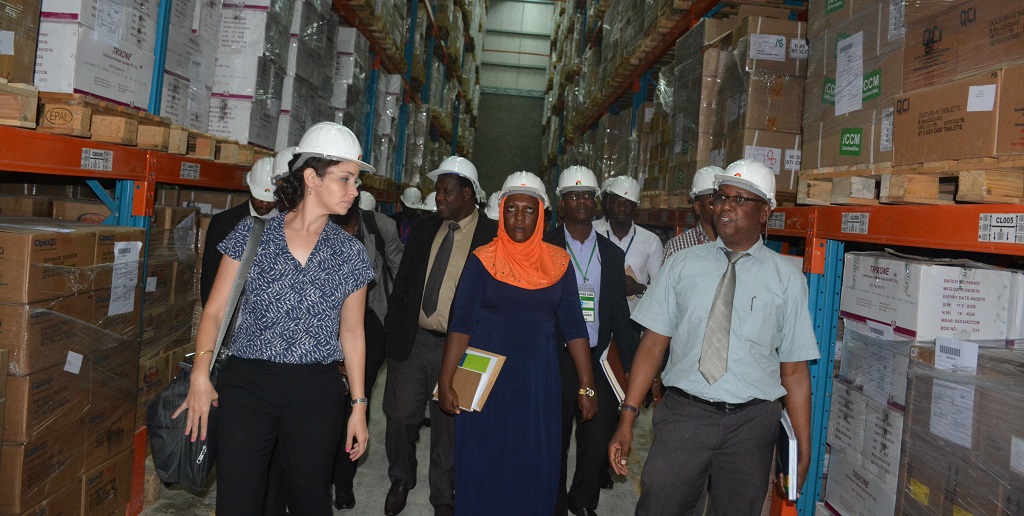 To do this, our CSO partner, the National Forum of People Living with HIV Networks in Uganda, worked with district and community partners to develop a regularly updated evidence dossier on stock-outs. We also executed a coordinated media blitz of radio spots, press conferences and journalist study tours to bring attention to the dwindling supply of drugs. During one of our engagement meetings, a Ministry of Health official conceded, saying: "The stock-out of HIV drugs is no longer looming; it is real."
To keep pressuring for a solution, the coalition collected citizen petitions and mobilized powerful community champions. This included a popular performing artist, Matovu Joy, who publicly disclosed his positive HIV/AIDS status during the campaign.
As a result, our campaign gained the attention of many powerful decision-makers, and led to face-to-face meetings with the permanent Secretaries of Health and Finance, and the Speaker of Parliament. We also used World AIDS Day and the Annual Health Assembly as opportunities to directly present the dossier, citizen petitions, and their advocacy asks to high-level leaders and government officials.
Getting the accountability message home, locally and nationally
Within a month, the Ugandan government had committed to securing a US$200 million loan, partly to be used to re-stock the country's HIV/AIDS and TB drugs. The government also successfully negotiated with the Global Fund, which agreed to frontload its future budget to the country's HIV/AIDS and TB programs to purchase lifesaving drugs.
Officials at the Ministry of Health and the National Medical Stores also revealed pipeline plans to spend US$5 million to build additional drugstores to accommodate more antiretroviral drugs and other drug supplies. They agreed to hold quarterly dialogues with civil society advocates and provide direct access to the President of Uganda if future stock-outs persist. The dialogues continue today and have proven to be a very useful platform for addressing some of our country's supply chain gaps.
At a public forum toward the end of our campaign, Uganda's Minister of Health acknowledged our efforts, saying: "The message has gotten home."
Accountability for health begins at home, and a stronger civil society can mean a stronger, more responsive government. But first, citizens must know how to pressure leaders to fulfill their health commitments.
We look forward to continuing our work across Uganda to empower citizens to demand that leaders prioritize the health of every citizen.