This International Women's Day, MCSP honors those on the frontlines helping women have healthy pregnancies, safe deliveries, and access to lifesaving family planning methods and services. In addition to handling emergencies, midwives and community health workers around the world provide the regular, routine care that allows women and their families to thrive.
One such community midwife is Lateefan Chandio, featured below in a blog from MCSP partner Jhpiego. Limited in her opportunities to attend school as a girl and forced to marry as a teenager, Lateefan never gave up on her dream of becoming a midwife and providing women the essential care and health services she never had as a young woman.
With support from MCSP's predecessor program—USAID's flagship Maternal and Child Health Integrated Program (MCHIP)—Lateefan was able to strengthen her midwifery skills. And, as part of MCHIP's efforts to increase access to high-quality maternal care, today she is among the 190 midwives who are proudly running their own community-based health clinics in Pakistan. Each of these midwives has the potential to reach 5,000–10,000 women with lifesaving skills.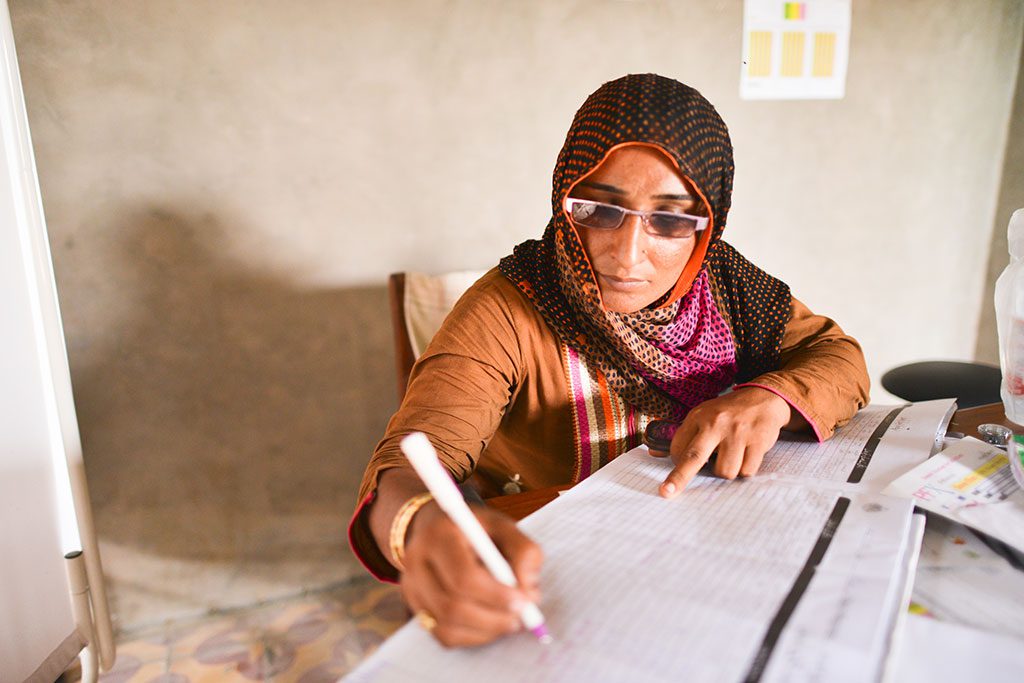 Mithi, Pakistan—For years, Lateefan Chandio fought for permission to attend an all-boys primary school—the only option for education in her village. Her parents agreed, but it wasn't a smooth road for this young girl from a poor family in rural Pakistan.
"I was allowed to go to school," Lateefan recalls. "But I didn't have books or a uniform." Undeterred, she attended school until the age of 15, when she was forced into marriage and had to move into a home five kilometers away from the nearest secondary school.
Now a rural housewife in a country where only three out of 10 girls attend secondary school (UNICEF 2012), Lateefan convinced her in-laws to allow her to continue her education, and embarked daily on the long walk to school. Even after she had her first child, at age 17, Lateefan persisted and graduated from 11th grade.
Lateefan didn't stop there. She became a lady health worker—one of more than 23,000 volunteers selected from their own communities and trained to provide information, counseling and basic health services to women and children. She proudly served for nine years.
"But still I desired to be more," says Lateefan. "I dreamt of having my own clinic where I could help women and provide them with the help I never got."
In 2011, Lateefan enrolled in midwifery courses—with her husband's permission—and a year later began working as a community midwife. Her job with the People's Primary Healthcare Initiative paid about $85 a month—a profound achievement for the girl who once couldn't afford even a school uniform.
Opportunity came knocking again, through the U.S. Government's flagship Maternal and Child Health Integrated Program (MCHIP), led by Jhpiego with Save the Children, PATH, John Snow Inc. and other local partners. MCHIP has been developing 1,000 maternal, newborn and child health (MNCH) centers as part of a program to increase access to high-quality maternal care and prevent the needless deaths of mothers and newborns. Many of the MNCH centers are run by midwives as private, community-based practices.
When Lateefan heard about these new clinics, she left her job to start a private practice in the village of Faqir Suleman Chandio—in her words, "my own MNCH center!"
With support from MCHIP, Lateefan strengthened her skills through multimedia and interactive training in birthing methods, essential obstetric and newborn care, and even business and entrepreneurial skills. She was trained to provide antenatal, postpartum, postnatal and neonatal care, and learned about Kangaroo Mother Care, a skin-to-skin, swaddling method to help premature babies grow and thrive. Lateefan also improved her skills in newborn resuscitation through the Helping Babies Breath initiative.
And, as a working mother, she found being her own boss was beneficial for her family as well.
"Because of MCHIP, I have more flexible hours and I can take better care of my family," Lateefan says. "I have benefited tremendously from the interventions, specifically infection prevention training, through which I now protect myself and my clients from life-threatening infections."
Today, Lateefan makes more than $200 each month, and she can afford to send her own children to school, with the books and uniforms she missed out on as a child.
"My message to all community midwives who are aspiring to become entrepreneurs like me is that this is a very respected and rewarding profession. You save lives of mothers and newborns and set an important example," Lateefan says. "An important working woman in this society is rare. Break the rigid barriers around you; it is not easy, but not impossible."