Northeast Haiti – As Marthe Bonami stands in her red apron in the courtyard of the National School of Cotelette, the 61-year-old's face reflects her determination to improve the health and wellbeing of her community.
"Our young people are the future of our community and to replace us they must be in perfect health. As the saying goes, 'health is life,' is it not?" she asks.
Inspired to strengthen the physical and psychological development of the local school children, the mother of four and her friends recently began preparing nutritious meals for them. But Marthe's community involvement goes much deeper than this.
Her efforts began with a community mobilization session led by Pierre Césaire, a community health worker (CHW) trained by MCSP's Services de Santé de Qualité pour Haiti (SSQH) project. Along with 20 women from her church, three community leaders, and Pierre, Marthe discussed the health problems facing their community, with a focus on maternal mortality and poor child health.
Remote areas struggle with limited access to high-quality health care, complicated by inadequate human, technical, structural and financial resources. In Cotelette, for instance, maternal mortality remains an issue due to access – women must walk about 2.5 hours (more than 6 miles) to reach the SSQH-supported health center of Sainte Suzanne.
The SSQH project is strengthening the country's health systems and improving health service delivery using high-impact technical interventions – from the ground up. Community mobilization officers (CMOs) in each of the 10 departments in Haiti work with CHWs like Pierre to organize community mobilization efforts and promote use of health services.
CMOs and CHWs conduct outreach and provide education on priority maternal and child health topics at mobile clinics, schools, marketplaces and special events. They engage local leaders – including elected officials, priests, traditional birth attendants, and teachers – to deliver messages on the importance of using facility-based services for routine and complicated care. CHWs reinforce this outreach through home visits, referrals and community follow-up.
As Marthe and the group discussed their most pressing health issues, Pierre stressed the vital role they each play in solving them. That got Marthe thinking: women she knew had lost their babies and she wondered how she could help. With guidance from Pierre – coupled with her drive to find pragmatic solutions to help her community – she came up with an idea to help women better access health care.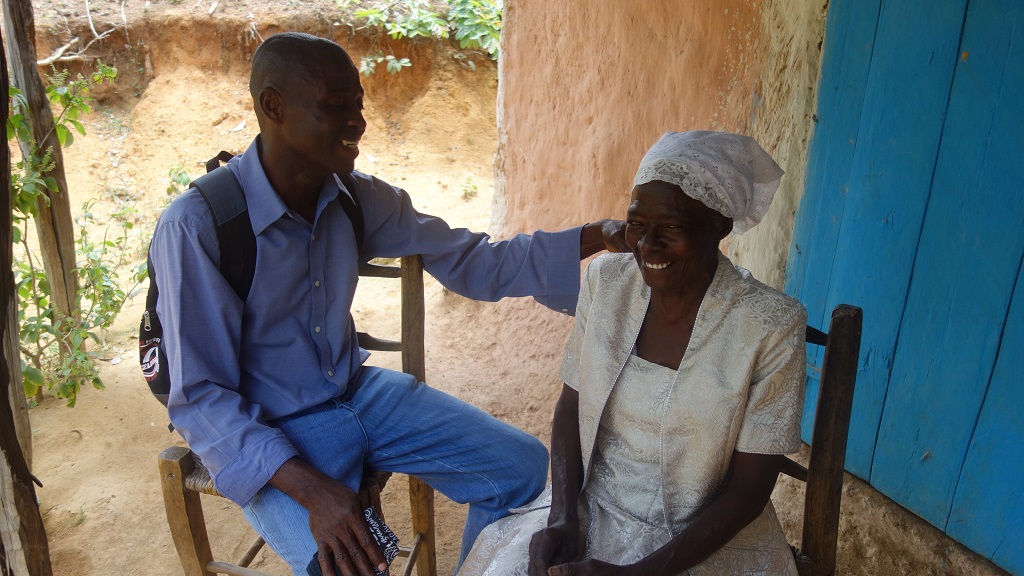 She now generously offers her house, yard, bed and linens to SSQH-trained health care providers for prenatal and postnatal consultations, family planning consultation and provision, and monthly education sessions. Previously, such consultations couldn't happen in Cotelette, because providers only had use of one space – the local school – which lacked beds and privacy.
Thanks to Marthe opening her home for education sessions, at least 20 pregnant women per month are learning about prenatal and postnatal dangers, and developing birth plans. "Women are giving birth less and less at home, and women can now get their desired family planning method here in the community," Pierre said. "Women like Marthe are factors of change in Cotelette."
Her efforts are greatly appreciated by the community, Pierre said, and he uses her as an example to mobilize others. Residents are increasingly taking advantage of services offered by the Sainte Suzanne health center, he noted. In the past three months alone, the number of pregnant women going for consultations increased nearly three-fold.
For Marthe, the satisfaction is in helping the women of Cotelette give life while preserving their own. "Many emergencies have occurred in recent years, including one where a woman who suffered for several days in Cotelette was eventually taken to the hospital, but lost her baby because of the amount of time spent at home without access to qualified personnel," she said.
Marthe is proving that there are often pragmatic solutions at the fingertips of those inspired to help. In Haiti, Pierre said, having such support from communities with no health centers can greatly reduce the number of maternal and infant deaths, and help the country achieve real development.