What do a bedridden mother, a married couple, and a 13-year-old yogi in northeastern India have in common? They all found what they needed through their local health and wellness centers (HWCs) in the Imphal district of Manipur state. These centers have brought comprehensive primary health care (CPHC) within reach, serving as a lifeline to these communities.
Through the Government of India's Ayushman Bharat initiative, HWCs have sprouted up across India to bring vital health care services closer to people's homes at no cost. MCSP is providing technical assistance to 12 state governments to strengthen the delivery of CPHC. The states include five high-focus states (Assam, Chhattisgarh, Jharkhand, Madhya Pradesh and Odisha) and seven northeastern states (Arunachal Pradesh, Manipur, Meghalaya, Mizoram, Nagaland, Sikkim and Tripura).
Under this initiative, India's Ministry of Health and Family Welfare aims to transform 150,000 sub-centers and all existing rural and urban primary health centers nationwide to the level of HWCs. The sub-centers will be led by mid-level healthcare providers and the primary health centers will be led by doctors. These providers will deliver CPHC services and strengthen existing reproductive, maternal, newborn, child and adolescent services, ensuring that no one is left behind in accessing quality health care, no matter their age, gender, disability or geographic region.
Through MCSP's technical support, this initiative is helping to close access gaps for those often out of reach of the medication and family planning commodities they need – and providing them with health and wellness activities, too.
A bedridden mother regains independence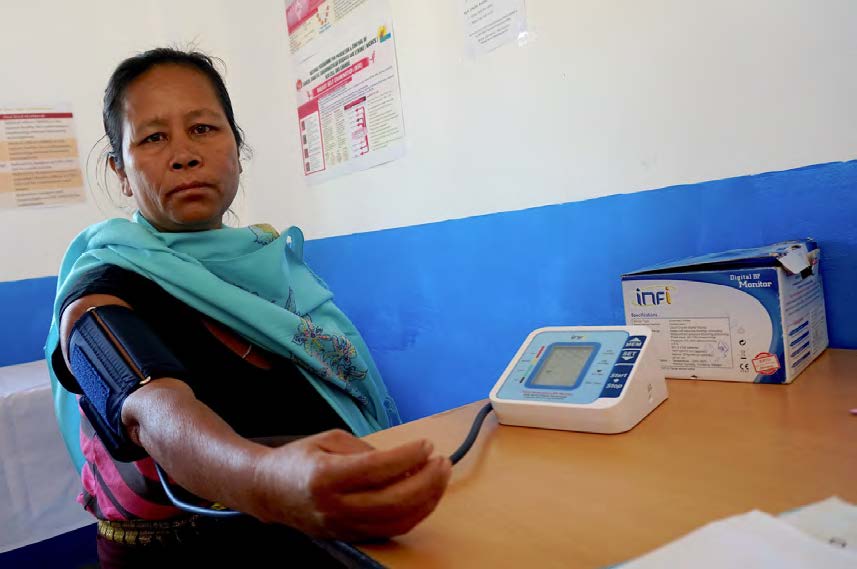 After the birth of her youngest daughter 11 years ago, Medha Thokchom's health declined. The mother of six daughters, she felt tired most of the time and started urinating more frequently. Her fatigue worsened until she became bedridden three years ago. No longer able to work, Thokchom worried about her family's welfare and whether she'd live to see her daughters get married.
Eventually, the pain of urination became so unbearable that Thokchom consulted a doctor at the district hospital where she was diagnosed with Type 2 diabetes and prescribed medication. The family's modest income made it difficult for Thokchom's husband to travel the 30 kilometers (18 miles) to buy his wife's medication. When the family's income fell drastically, they could no longer afford these trips or the medication.
But all hope was not lost. Thokchom's life took a turn when Vidyarani Asam, a community health officer (CHO) from the HWC Kokchai, visited her at home. (A CHO is another name for a mid-level health care provider.) Asam tested Thokchom's blood sugar level and was alarmed to see the glucometer reach the 600 mark. Asam immediately escorted her to the HWC, just 20 steps from Thokchom's home. Through a teleconsultation with a medical officer at the primary health center, she was prescribed medication that she could obtain from the HWC, free of charge.
Through the Ayushman Bharat initiative, the MCSP team advocated with state- and district-level authorities to ensure regular supplies of drugs and diagnostics for all HWCs. Within a month of the inauguration of the HWC Kokchai, there was a steady supply of all essential drugs, including Thokchom's antidiabetics.
When Thokchom started taking the medication – and following a diet and exercise regime – her blood sugar levels returned to a normal range. She continues to go to the HWC every two weeks for regular checkups.
Today, Thokchom is thriving. "To know that my illness is lifelong and I can get a free supply of medication for the rest of my life and so close to my home is very comforting," she says. "I have just begun to feel happy again."
One couple's commitment to a healthy family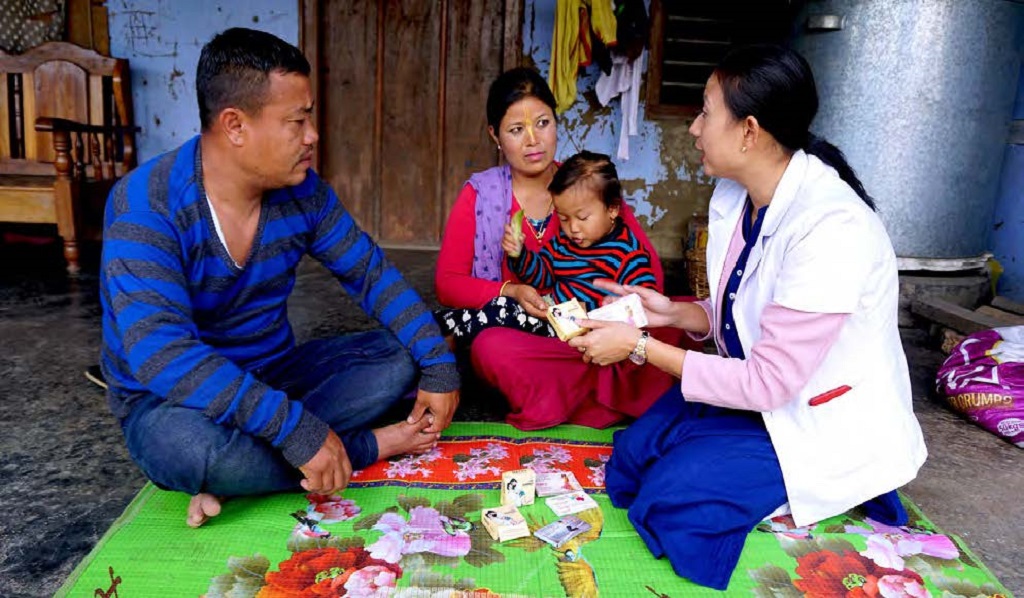 Married for 10 years, Arju and Rekha Pukhrambam Singh are raising two daughters, 8 and 2 years old. Arju earns a living for the family by transporting sand from the banks of a nearby river in a truck the family owns and takes on other side jobs. He and his wife have decided not to have more children. "Having a small family has its own economic benefits. At least we can feed everyone properly," he says.
When possible, the couple used to purchase condoms as their method of birth control, due to their limited income and lack of awareness about other available options. However, when the Awang Wabgai HWC was established a mile away from their village, access to family planning commodities became easier and were available free of charge.
CHO Ranita Maibam from the HWC visited the family at home and discussed voluntary family planning options available, including long-acting and permanent methods, given that the couple had already decided not to expand their family. The Singhs say they were comfortable using condoms for the time being and were pleased that they could access a free supply from their HWC, which they continue to do.
In Manipur, 15.6 % of married couples have an unmet need for family planning. As part of the Ayushman Bharat initiative, the Awang Wabgai HWC and 29 other HWCs in Manipur are the first point of contact for CPHC services, serving a population of around 5,000 per center. The MCSP team oriented Maibam on the various methods and the benefits of voluntary family planning. She now shares this knowledge with members of her community, helping to make couples like the Singhs economically more independent.
MCSP believes that voluntary family planning is one of the pathways to building a strong economy and the Program is helping more than 11 million eligible couples to access high-quality family planning services through the HWCs in its intervention states. It is estimated that for every dollar spent on family planning, the return on investment is $6 (UNFPA), which is helpful for countries like India with a large population.
A 13-year-old yogi's dedication to her community's well-being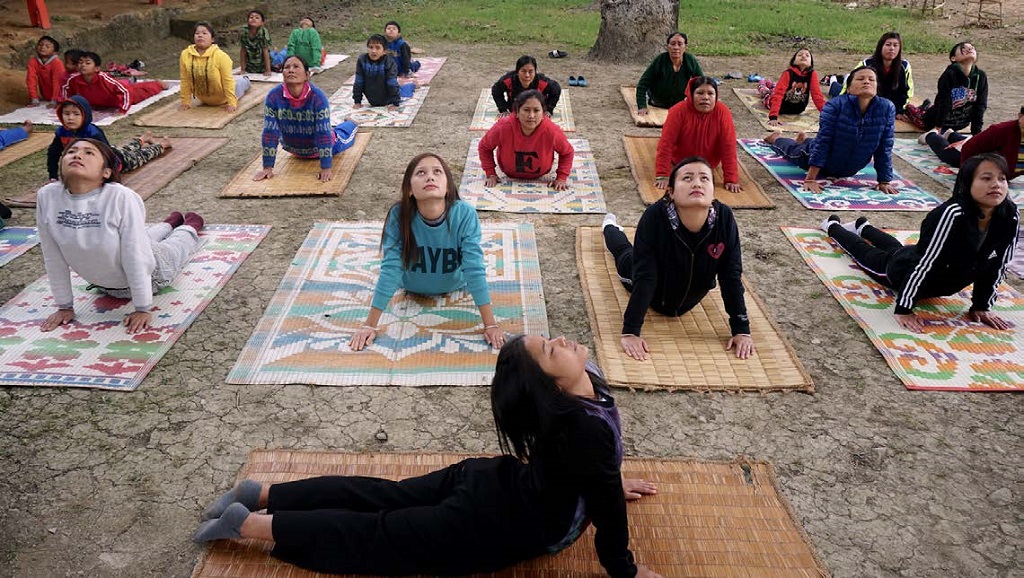 Before the break of dawn, 13-year-old Kiran Hidam wakes up and hurriedly dresses for school. She cycles through lush green fields surrounded by mountains and pedals by mud and hay huts and multi-colored cement homes in Manipur's Imphal district. But before she starts her classes, she has an important job to do — teach yoga.
At 5:30 every morning, about 30 people welcome Hidam in the courtyard of the village's government school. Young children, adolescent girls, married women, and a group of older men and women gather every morning to practice yoga with her.
The youngest of five children, Hidam is her village's yoga maestro. As the day breaks, Hidam and her enthusiastic health champions sit cross-legged and start chanting "om," with the sound reverberating in the crisp morning air.
Advocating physical exercise, promoting sports for young people in the community, and encouraging a healthy lifestyle are priorities of the Ayushman Bharat initiative. Yoga is a part of bringing wellness to communities as part of India's HWCs.
To this end, Hidam and around 30 other volunteers from local communities received training to lead yoga sessions for the catchment population of functional HWCs across Manipur. Community participation is integral to CPHC for leveraging sustained and collective community action.
As the yoga session ends, the group chants "om" one last time, feeling relaxed, fresh and ready to start their day, before saying goodbye to Hidam.
"I feel empowered that I am able to help so many people take charge of their own wellness and ensure my community is healthy," she says.
Across India, there are millions like Thokchom, the Singhs, and Hidam who now have easier access to health and wellness services. CPHC is no longer a dream, but a reality for the country, where HWCs are laying the foundation for a resilient India — one person and community at a time.
A drop in the ocean: One midwife makes a ripple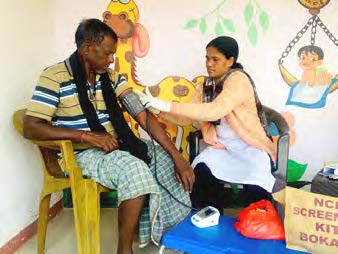 Sameena Khatoon traverses tough terrain in India's Bokaro district of Jharkhand state to reach far-flung villages, bringing primary health care to people's doorsteps. As an auxiliary nurse-midwife, Khatoon is responsible for the health of more than 5,000 people.
Through the Government of India's Ayushman Bharat initiative, the health sub-center where Khatoon has worked for the past 10 years transformed into the HWC Radhanagar Bokaro, bringing CPHC closer to where people live. With MCSP support, the initiative provides an expanded package of health services including components of non-communicable diseases (NCDs).
"People in the villages don't have the right kind of education or awareness to consider health a priority. So when we go to a village and meet even five people a day and educate, counsel and screen them, we are in turn reaching out to a large population and helping prevent or diagnose a disease," Khatoon says. "It makes me feel good that I am a part of this huge effort."
MCSP trained Khatoon and her colleagues in the screening and management of NCDs. Every day, she visits a different village and conducts NCD screenings. She refers any person diagnosed with an NCD to the next health center level, where a doctor diagnoses the patient and prescribes the required medication.
Khatoon believes that "everyone has the right to quality health care and the services being provided by the government irrespective of their age, gender, income, or where they live."
"This [work] is my drop in the ocean," she says.