This content also appeared on the JSI website.
Across three counties in Liberia, community members arriving at their local health facilities barely recognize the sight that greets them — bright, newly painted, renovated structures. These improvements are renewing their confidence in both the country's national health system, and in health care providers' abilities to deliver high-quality and accessible health services.
Liberia's health system and infrastructure suffered greatly during the Ebola crisis and from its repercussions. In the wake of the crisis, USAID's flagship Maternal and Child Survival Program (MCSP) identified critical gaps in the infrastructure at rural health facilities. Working closely with the Government of Liberia, USAID determined that infrastructure upgrades would help to restore health service delivery at primary health facilities and strengthen infection prevention and control practices, with the ultimate goal of a healthier population that is more resilient to future outbreaks – such as the one occurring now in the Democratic Republic of Congo.
A key intervention of the project, called "Restoration of Health Services," was targeted infrastructure improvements at 48 health care facilities in the counties of Grand Bassa, Lofa and Nimba. Depending on each facility's identified needs, upgrades – such as a triage building, incinerator, potable hand-dug wells, latrines, and pits dedicated to disposal of specific types of waste – were made to improve access to onsite waste, water and triage.
MCSP worked closely with the Ministry of Health and county health teams (CHTs) to ensure that local stakeholders were invested throughout the construction process, knowing their sense of ownership of the improvements will help ensure long-term sustainability. Program engineers worked alongside CHT representatives, providing opportunities for mutual learning and capacity-building. Skilled laborers – such as carpenters and masons – as well as unskilled helpers were recruited from within the communities.
"This is the first time for the CHT to be fully involved in a construction process from procurement to implementation," said Blama Sirleaf, the Environmental Safety and Occupational Health Technician, during the introduction and site selection process in Lofa County.
With the CHTs involved in every step of the construction process of each new feature built, they are prepared to conduct future maintenance of these facilities and coordinate other construction in the future. This close partnership among MCSP, the Ministry of Health, CHTs, and the communities themselves will help ensure the longevity of these structures.
Where before open-air triage areas served to screen patients for infectious diseases, now these services are offered in new buildings.
 A total of 18 triage units were constructed. They were designed so that there is a place for screening that keeps nurses from direct contact with patients to keep both parties safe. The temperature of any visitor is checked at the triage unit to help control the spread of infectious diseases. The building also has a holding unit where any suspected cases are monitored for a short time before being transferred, if necessary. With this feature, the spread of infectious diseases can now be better controlled.

Where before the bushes outside or shoddy outhouses were used as latrines,
now bathrooms are enclosed in buildings.

The construction of 25 latrines will help keep staff and patients safer. There is a two-fold health benefit of enclosing bathrooms in well-constructed buildings: it eliminates public defecation, which poses serious health risks because of the potential spread of disease; and reduces the risk of bites from snakes or wild animals. Moreover, the improved facilities greatly increase users' dignity and comfort.

Where before open pits were used to dispose of waste,
now there are incinerators.

Without an incinerator, facilities had to burn waste in open pits, causing air pollution and putting any children who played nearby in harm's way from any waste that didn't burn such as needles and bottles. With MCSP's construction of 25 incinerators, staff and the community at large are now safe from potential harm.
Many health facilities also lacked appropriate waste disposal pits for placentas, ash and sharps to help control the spread of contaminated and dangerous waste. Now a total of 77 such pits were constructed at 35 facilities — ensuring a safe environment for health workers, patients and the community.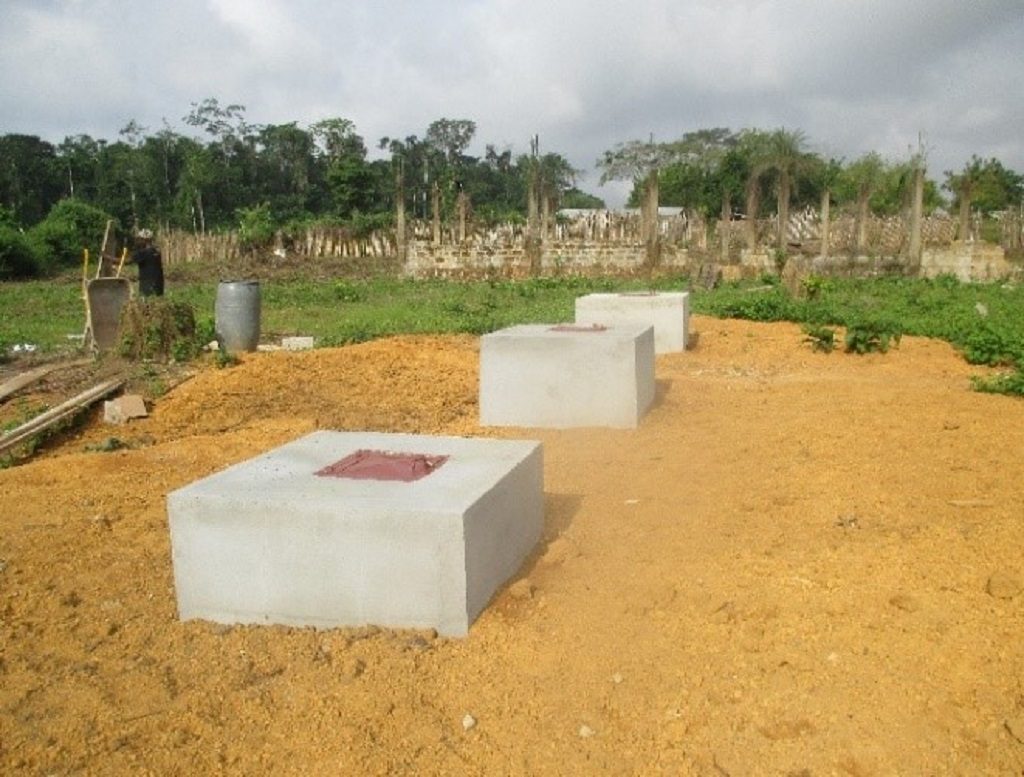 "The issue of disposing laboratory waste after work was a serious challenge. I used to come late in the night, dig a hole to bury the waste," said Mackie Flomo, a Laboratory Aid at Well Baby Clinic in Grand Bassa County. "But with the presence of sharp pits constructed by MCSP, I enjoy doing my work now and don't have to worry about digging a hole to bury waste at night."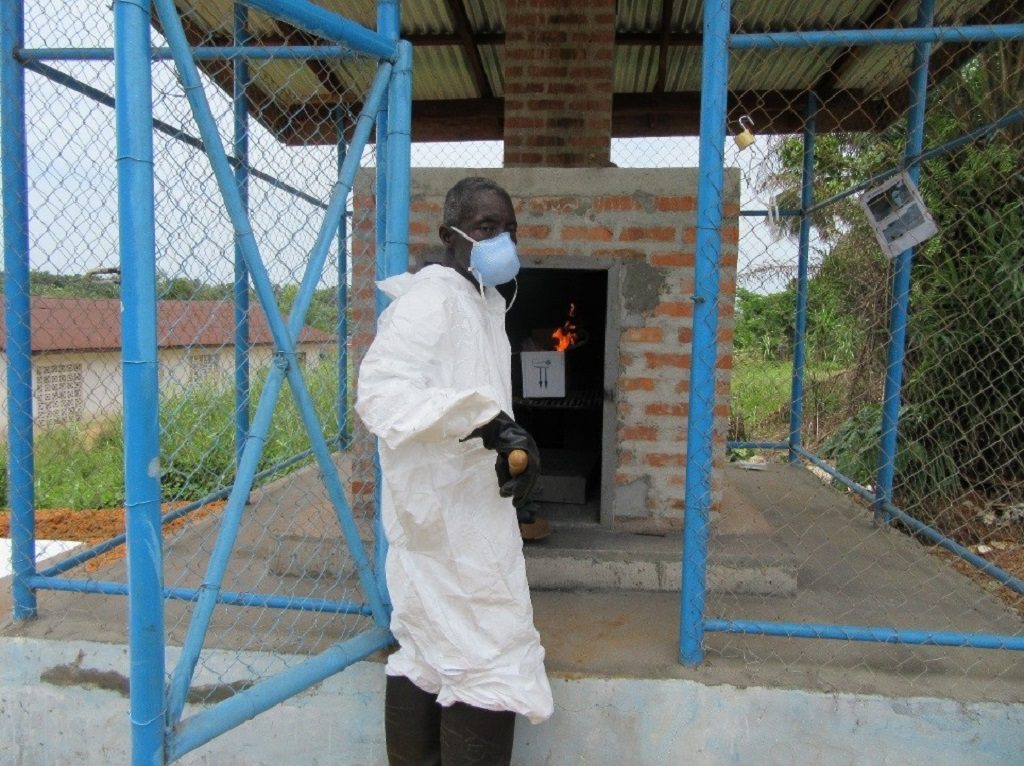 Where before the only source of water was a nearby creek, now clean water can be drawn from a well with a hand pump.
Access to clean water is necessary for maintaining infection prevention and control practices. Some health facilities had hand pumps, but they often did not work. Other facilities never had any clean water source at all, causing unsafe conditions for health workers and patients.
Staff often had to walk a fair distance to fetch a bucket of water from creeks or faraway hand pumps, which often did not meet the daily needs of the facility for drinking, cleaning and handwashing. With the construction of 19 hand-dug wells, the sanitation conditions of the facilities have vastly improved. Health workers and patients can now help to prevent and control the spread of infectious diseases for the entire community.

"A health facility cannot properly function without safe drinking water. But for more than one year now, the clinic has been using an open well for both drinking and domestic use," said Fatu D. Kollie, a nurse at Lloydville Clinic in Grand Bassa County. "Thanks to MCSP for giving us a hand pump [for clean drinking water]."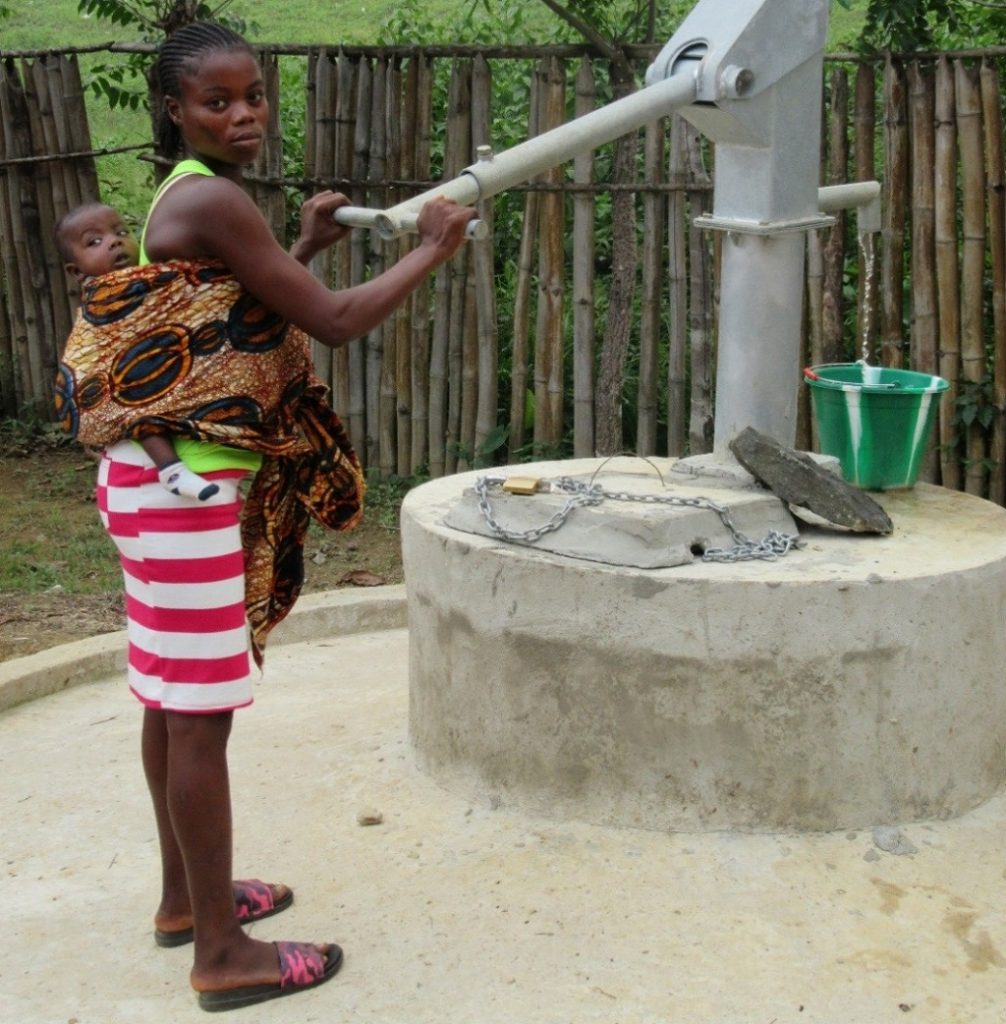 But these efforts were always about much more than improved infrastructure – they were about improved health. And in this way, MCSP is succeeding dramatically. Program-supported health facilities have seen a significant increase in client numbers since these improvements were made – a rise that speaks to both the increased availability and quality of services provision, and to the restored confidence of the local communities in the health system. From the initial assessment, the number of women receiving malaria prevention medication during pregnancy and skilled delivery services has nearly doubled, and the number of children receiving Penta3 vaccinations and proper diagnosis and treatment for pneumonia has doubled.
Increasing demand for facility-based health services must go hand-in-hand with ensuring that facilities are ready and equipped to offer high-quality care when patients arrive. Through the Restoration of Health Services project, MCSP is building local capacity – of skilled and unskilled labor alike – while leaving behind the sturdy infrastructure Liberians need to build a healthy future for themselves.