This blog originally appeared on the Frontline Health Workers Coalition website.
"It was a challenge and a long journey to get to the point we are right now," said 30-year-old Misaye Asmamaw. She's speaking of her years as a frontline health extension worker in the Amhara region of Ethiopia – work she still talks about with joy, despite its challenges.
"I love my people and the people love me," she adds. "I believe I have accomplished a lot with this community."
And she has. Thanks to a five-day training from USAID's flagship Maternal and Children Survival Program (MCSP), Asmamaw is now able to treat the small babies who come to her outpost for care. Previously, she could only refer them to the health center – and she felt helpless when many families did not adhere to the referral due to lack of transportation or money, or because they didn't understand the higher-level care available there.
But after 8 years as a frontline health worker, Asmamaw heard about MCSP's Newborns in Ethiopia Gaining Attention project – NEGA – when work began in her community. Along with 2,489 other health extension workers in the Amhara region, she completed MCSP's community-based newborn care training. She is now one of more than 7,000 health extension workers in four MCSP-supported regions of the country to have done so.
Nationally, roughly 70% of deliveries in Ethiopia occur at home, and interventions such as prenatal and postnatal care are underutilized.  MCSP is combating this through competency-based trainings that stress early identification of pregnancies and follow-up through the delivery and the postnatal periods.
For Asmamaw, it wasn't long before her new knowledge and training came in handy. Biscay Health Post, where she works as the main health care provider, serves more than 5,600 people. After Asmamaw's training, a 22-year-old mother – Addise Yaregale – arrived to the health post seeking care.
The young woman suspected she was pregnant. Three years prior, she had been pregnant for the first time, she told Asmamaw. Initially too shy to see a doctor for prenatal care, it was only constant pain that eventually drove her to the nearby health center, she said. From there, she was referred to the hospital in a nearby town, where she learned she had high blood pressure. Her baby did not survive.
At Asmamaw's urging, Yaregale agreed to go to the health center for an examination, where her pregnancy was confirmed. "Since then, I kept coming to the health post every month to check my blood pressure and the progress of my pregnancy," the young woman said. Given her previous loss and heartbreak, she was careful to seek Asmamaw's care throughout her pregnancy.
This strong relationship with Asmamaw proved lifesaving shortly after her son, Saleamelak, was born. At just two-weeks old, Yaregale's infant son fell ill. The new mother noticed that her son had a high temperature and was breathing abnormally. She was worried and unsure what to do. She immediately turned to Asmamaw for help.
Fortunately for Yaregale, Asmamaw knew exactly what to do. No longer needing to refer, the frontline health worker examined Saleamelak carefully and correctly diagnosed him with pneumonia. Thanks to the training, job aids, and supplies she received from MCSP, she was also able to treat him immediately with the correct medication.
Today, Saleamelak is a thriving 14-month-old boy, and Asmamaw continues to check on his progress. Yaregale tells her she only wants one more child.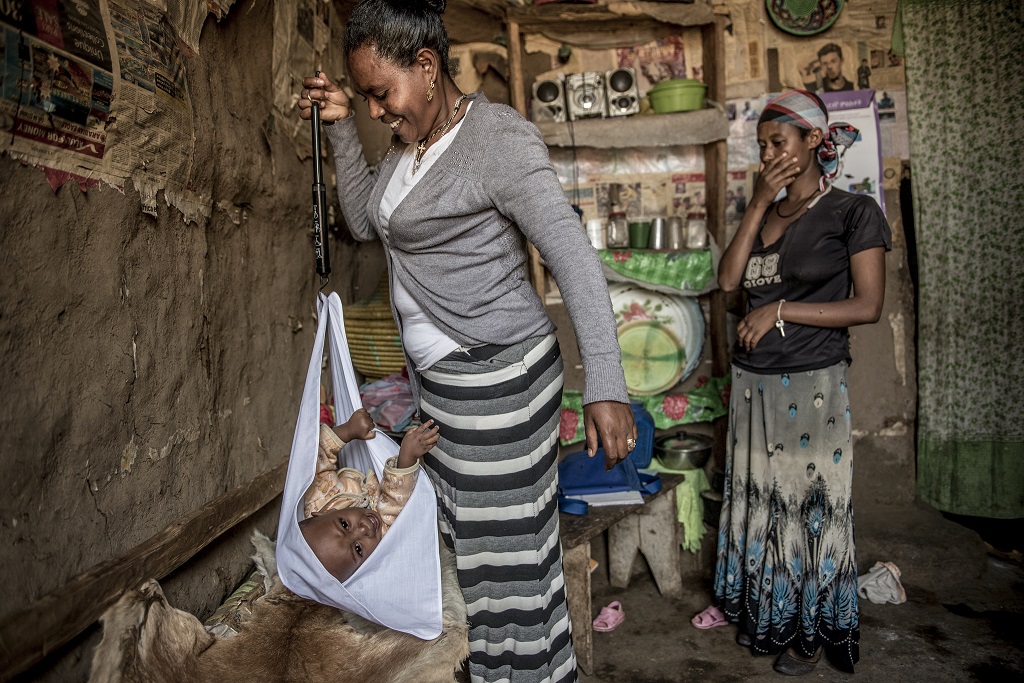 "Helping mothers and children is the most satisfying work," Asmamaw says proudly.
With trained frontline health extension workers like Asmamaw, MCSP in Ethiopia is building self-reliant communities while expanding access to high-quality health care for women and children. To learn more about our work in Ethiopia, click here.