For Amele Precious, the 7 km (4 mile) journey to the nearest health center in Chinguluwe deterred her from accessing vital health services, including family planning. Near her home in Msanduliza village, the outreach clinic caters to a population of 990 people from 23 villages with services previously limited to growth monitoring and immunization for children under five.
Women like Amele seeking family planning services had to trek the four miles to Chinguluwe, where such services were offered twice a week. During the rainy season, when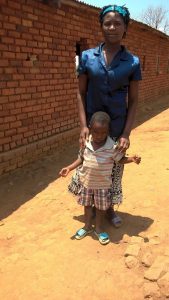 road conditions deteriorate dramatically, this journey goes from difficult to nearly impossible.
Unfortunately, Amele's situation is not unique in Malawi: 80% of the country's population lives in rural villages far from health services, making limited frequency of service provision and great distance common obstacles to accessing high-quality care. Thankfully, MCSP's work with the District Health Management Team of the Ministry of Health (MoH) is bringing essential services closer to the community through outreach clinics.
By training facility-based health providers and community health workers — locally known as health surveillance assistants (HSAs) — on service integration, health providers are now able to offer immunization and family planning services in a single package during facility visits. "Since we started providing integrated service, attendance at the clinics has increased," said HSA Frankson Chibwato. "Before the trainings, the clinics would serve 40 clients per session, but now they serve 120-140 clients per clinic session."
The immediate success of these efforts can be attributed to MCSP's focus on community leadership and mobilization. Community members are uniting to promote these services themselves through the formation of family planning groups. The Chimwala group, for example — comprised of 21 men, women and community leaders — has reached 459 local families with messages on the benefits of family planning and immunization.
Men are also playing a key role in increasing the uptake of services. After understanding the importance of making informed decisions as a family, many have begun escorting their wives to the clinic to access services, or visiting the clinic on their own to pick up contraceptives.
For women of Masunduliza village like Amele — who did receive a family planning method that day, while having her child's growth monitored — a four mile journey no longer stands in their way to accessing high-quality family planning services. These are now frequently in reach in the comfort of their own village, and with the growing support of their community.