This blog was originally posted to the mPowering website.
We were delighted to work with USAID and Dalberg Global Development Advisors to develop the USAID Community Health Framework.  The framework is a decision making tool that distills decades of Agency experience, and benefitted from the input of over 60 field and academic experts in community health. The Framework makes a compelling case for focusing on the community to improve health outcomes; and helps the user identify priorities and strategies to improve community health.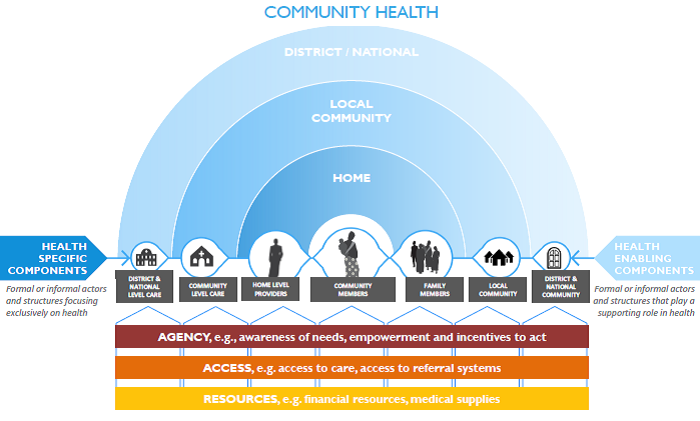 How can the Framework be used?
The Framework assists decision makers in understanding community health and how it can be strengthened. It sets out the core components of the community health ecosystem (see Figure 1) and helps decision-makers answer four key questions about community health:
Why should we care about community health?
What is needed to deliver strong community health outcomes?
How can we develop or strengthen community health programs? and
Where can we find examples of models and innovations that seek to improve community health?
The Framework uses these questions to outline a process for identifying opportunities to strengthen community health ecosystems.
The Community Health Toolkit
The Framework also provides a toolkit, which highlights a number of successful models, innovations, and case studies. The toolkit consists of three parts:
A detailed series of questions to aid the five-step process that the Framework outlines for developing and strengthening community health programs,
A list of external resources to help decision makers develop and strengthen community health programs, and
A list of models and innovations that have shown promise in delivering community health outcomes across the various components identified in the Framework (see Figure 2).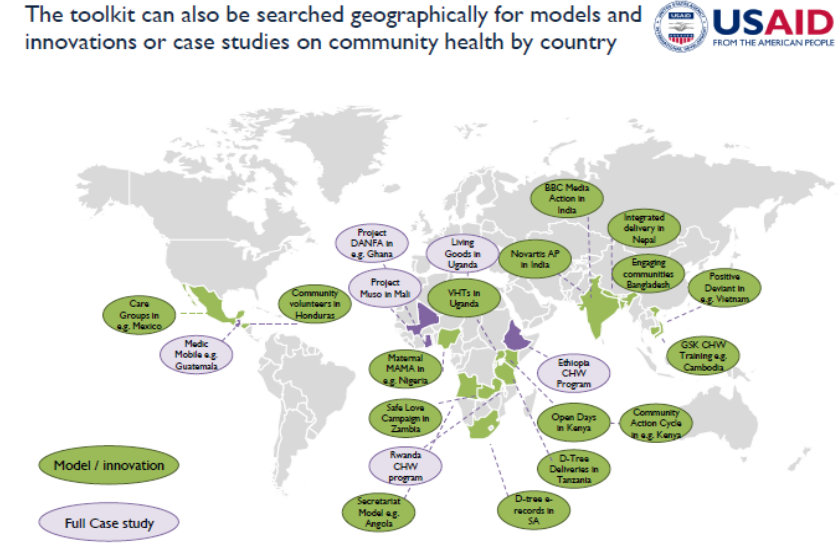 An interactive Framework – with room to grow
This Framework (and the toolkit) is a living resource for USAID and community health stakeholders to test and update – to ensure it continues to evolve and improve in the years to come. The Framework is available on our resources page.
USAID welcomes feedback – please send your comments and ideas for the Framework to info@mpoweringhealth.org.