Antananarivo, Madagascar – Every year, the island country of Madagascar hosts about half of the world's plague cases. But the most recent outbreak was unique in two dangerous ways: most cases were pneumonic and, therefore, highly contagious and deadly if not treated quickly; and, for the first time, the disease reached two of the country's largest cities, Antananarivo and Toamasina.
Centre Hospitalier AntiPesteux d'Ambohimiandra (or CHAPA), the plague hospital in Antananarivo, wrestled with both of these challenges. The small facility usually sees 200 patients during an entire plague season (from August to April). However, this past season – in the stretch of just two months – the hospital received nearly 600 patients, thousands of families and visitors, and hundreds of permanent and contract health staff and hygienists.
Because this season's outbreaks occurred in regions unaccustomed to the disease, most providers were also caught unprepared. Gaps in infection prevention and control (IPC) – including the use of personal protective equipment (PPE) – left providers at risk and many were infected during their work. Staff at CHAPA were no exception; they struggled to cope as the number of patients exceeded the hospital's capacity to adhere to IPC standards, and they worked in a facility not designed to minimize the risk of transmission. The hospital lacked toilets for infected patients, for instance, and separate screening spaces.
As a contribution to the national plague response, USAID's flagship Maternal and Child Survival Program (MCSP) supported the Ministry of Health (MOH) to develop a two-day IPC training curricula and job aids targeting frontline health workers. Trainings, some of which were funded by the World Health Organization, were conducted with partners in 12 major hospitals in four regions with more than 400 providers trained in a few weeks.
This included work with providers at CHAPA like Dr. Fanja Ny Aina Andrianjaka, who has been at the plague hospital for two years, but had never before received this type of training.
"[It] gave me a better understanding of the appropriate measures to take when managing patients suffering from the plague," she said. "The program encouraged us to take initiative in the organization of the hospital in terms of infrastructure and the care circuit."
These staff-led efforts resulted in adaptation of existing toilets and the inclusion of additional wards to welcome more patients and visitors. The hospital was restructured to separate "infected" and "clean" zones, and staff implemented triage and quarantine stations for suspected plague cases and proper waste management.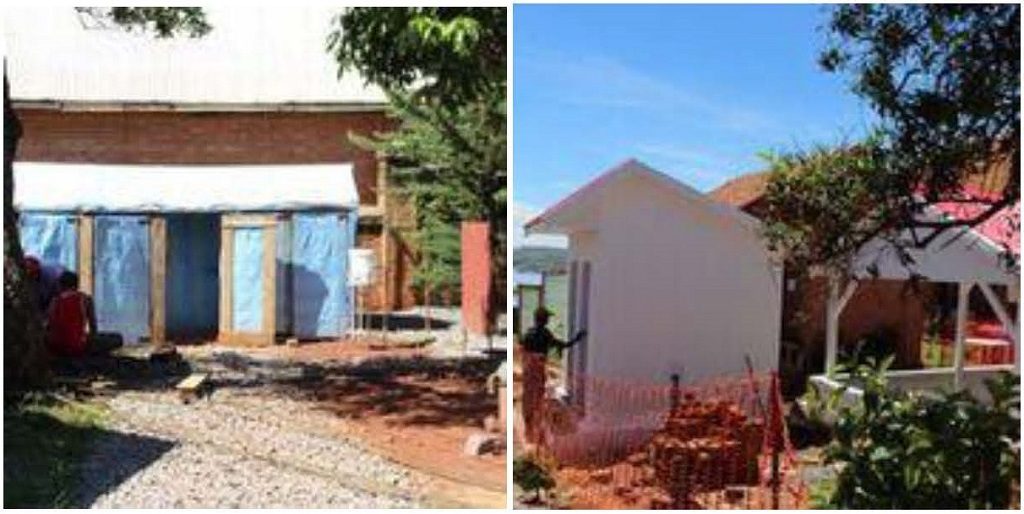 "The donation of materials [by partners] also helped facilitate the practice of precautionary measures," Dr. Fanja said. USAID, UNICEF, the World Health Organization, and Médecins du Monde provided buckets for handwashing, trash bins, fabrics to make screens, and disposable items for patients and health providers.
Since the training, Dr. Fanja's attitude about the use of PPE and the practice of standard precautions for plague prevention has changed, and her knowledge of patient care and treatment has improved. She now uses gloves, gowns, masks, goggles and shoe covers when interacting with patients, and puts on and removes PPE in accordance with the best practices she learned in the training.
At its peak, nearly 20 CHAPA staff members contracted the plague. Since implementation of the IPC trainings, no more have become infected.
Although the MOH declared the end of the pneumonic plague epidemic in December, MCSP is not slowing its efforts to better prepare the country for future outbreaks. Our staff continue to distribute related job aids and perform follow up site visits to gauge progress, and we're supporting cascade trainings of providers in the five priority regions most impacted by the plague: Analamanga, Atsinanana, Haute Matsiatra, Vakinankaratra, and Alaotra Mangoro.
At the national level, MCSP is also conducting "training of trainers" sessions for MOH staff, enabling them to further build the capacity of the country's health providers in 15 USG regions. The approach is designed to promote MOH ownership and build its capacity to support and implement effective trainings in the future.
MCSP program strategies aim to address many systemic weaknesses, including insufficient district managerial capacity to address and support clinical skill-building and regular supportive supervision. As a result, the Program is better preparing both facilities and teams to prevent and control future plague – or other infection disease – outbreaks.
To date, 429 providers have been trained in plague management and IPC; up to 400 health additional providers will be trained in these ongoing efforts.