This post originally appeared on the Crowd360 website.
Like most men in Mozambique, Virgilio Ajuda never had time and didn't think it was his place to escort his pregnant wife to the health clinic. "I always thought it [antenatal care] was only for women," said the 41-year-old father. But when his wife, Sara, 36, who was pregnant with their fourth child, went into labor in the middle of the night, Virgilia was prepared and, with help from his neighbors, he quickly organized for transport to take her to the village health center, about 40 minutes away.
When they arrived, the nurses told him Sara had a complication. The baby was in danger—lying in an abnormal position and posing a risk for a safe birth. Sara needed immediate surgery, a Caesarean section, to deliver the baby.
Through a partnership between Johnson & Johnson and the US Agency for International Development's Maternal and Child Survival Program, Jhpiego piloted the Birth Preparedness and Complication Readiness (BPCR) approach in Boane district in southern Mozambique to encourage couples to make shared decisions and be informed of danger signs of obstetric complications and emergencies.
By addressing critical delays in seeking care and promoting the importance of  men's roles in family health, the project inspired Virgilio and Sara along with 489 other couples in Boane to make reproductive health decisions together, something that was deemed unlikely just a few months earlier. The project particularly focuses on male-involvement by engaging initially reluctant partners like Virgilio.
Through this project, men are being empowered to take pride and be more responsible in protecting their families. As a result, in the year since the initiative began, the participation of men in antenatal care (ANC) has increased three-fold: from 9 percent (179 out of 1997 women at ANC) in February 2014 to 29 percent (489 out of 1700) in February 2016 with an average of 20 percent getting involved.
One key element of the project is encouraging men to develop a savings plan so they can arrange for transport to a health facility ahead of the estimated due date and in case of emergency and accompany her there.
Putting aside money for this purpose made sense to Virgilio.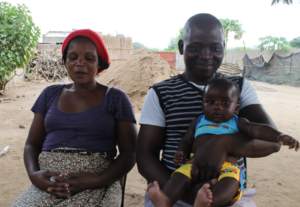 "We live far from health facility and as I was advised, I saved money for transport and I talked with my neighbors who have a car to be ready at any time to take my wife to the hospital," said Virgilio.
As the health center could not perform the surgery that night, Sara had to be transferred to the provincial hospital, nearby. But there was still another problem. The health center's ambulance was not available at that time. But Virgilio's preparedness paid off.
"We went to the provincial hospital using the same car that brought us, [this time] accompanied by a health provider," said Virgilio as he recalled the quick actions and life-saving decisions. Today his wife, their now four month-old son, Armando, and his three other children are growing healthy and strong.
"I love my family but I should confess, [before this] I never had time to go with my wife to the hospital," says a changed Virgilio. "I am very grateful for the education and information I received during antenatal care sessions and from the home visits," organized by the project on birth preparedness and complication readiness.
Virgilio has a mission and a message to his fellow country-men: "We must work to spread BPCR education and counselling in the community so that more men understand the importance of participating and being with their women during pregnancy."