This blog originally appeared on The Huffington Post.
For the first time in her life, Freedom Santo – a traditional healer in South Sudan – recently felt positive recognition from both her government and her community. She is part of a group of traditional healers incorporated into a new cadre of community health workers (CHWs) blessed by the new government in South Sudan.
She underwent a one-week training on identification of danger signs in children for three diseases with which she's been familiar all her life. She was acquainted with the signs and symptoms mentioned during the training, and learned more about how to react when she encounters a child with a danger sign.
This new level of frontline health workers will extend essential health services coverage to fulfill the new global agenda of universal health coverage. And on a personal level, the opportunity to serve her community has made Freedom feel proud and useful.
To achieve universal health care, the World Health Organization (WHO) recommends an average of 4.1 essential health workers (e.g., doctors, nurses/midwives,
pharmacists) per 1,000 people. However, in Africa, there are 1.6 health workers per 1,000 people on average, with South Sudan one of 36 countries that do not meet this WHO criterion.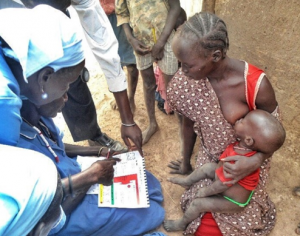 Moreover, only 20% of the health workforce in South Sudan is located at the sub-district level, meaning an average 80% of health staff do not render preventive or basic level services to people in their communities. To fill this gap, World Vision employs a community human resources task-shifting strategy in a program known as community case management.
CHWs like Freedom are key to accelerating progress in achieving universal coverage, but these efforts are not cheap: millions of dollars have been invested in task-shifting activities and systems to ensure competencies and skills of CHWs are not neglected. Improving and maintaining their clinical skills is critical for strengthening health systems and providing adequate care to mothers, newborns, and children.
Moreover, supervision is widely recognized as key to improving health worker performance. Among other goals, we hope that functioning supervision systems to support community case management activities will contribute to the appropriate use of antibiotics.
Freedom was part of this group and even though she did not benefit financially from this activity, the sense of support and recognition of the value of her work was enough incentive to continue her efforts. She knows that her work is an investment in the development of her community and her country. Hopefully, she says, the support will continue over time.