Healthcare workers are essential in developing countries like Nigeria, where 1 of every 16 women dies during childbirth and 70 newborns die for every 1,000 live births. In such a context, skilled birth attendants like Mariam Habib are critical to ending the preventable deaths of mothers and newborns.
Habib, 35, is a nurse-midwife at Zonal Hospital Kabba in north-central Nigeria. Her work – including the successful revival of a newborn – justifies the investments made to empower frontline healthcare workers with lifesaving skills. It also justifies the need for the constant presence of skilled workers in every health facility to provide high-quality maternal, newborn and child health services to patients as needed.
In Nigeria, however, healthcare workers are often nonexistent or not skilled enough to provide required services in many health facilities. Added to these shortcomings is the poor state of many facilities, further challenging the delivery of high-quality health care. The country's poor indices in deliveries by skilled birth attendants (38%) and deliveries at health facilities (36%) are effects of the challenges in the link between frontline health workers (and health facilities) and high-quality service delivery.
Recognizing these and other related challenges in the Nigerian health system, MCSP has been working with the federal government of Nigeria and governments of Ebonyi and Kogi States, health ministries, departments and agencies, public and private healthcare providers, professional associations, and other stakeholders to build the capacity of healthcare workers to provide high-quality maternal and newborn health services in both states. Focusing on ending the preventable deaths of mothers and children, the Program has empowered more than 700 healthcare workers from 120 facilities in these states to provide basic emergency obstetric and newborn care and essential newborn care.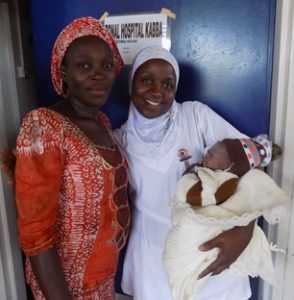 Habib was one of the frontline health workers who benefitted from the trainings, using her new skills to save the life of a newborn only weeks later. When 38-year-old Dorcas Bakare – in prolonged and painful labor – was rushed to her hospital from a traditional birth attendant's house, Habib was on duty. Dorcas delivered a baby that failed to breathe at birth, and the mother feared her newborn would not survive.
Confidently, Mariam dried the baby thoroughly and used a bag and mask to ventilate him for a few minutes – a procedure she learned at the second essential newborn care training organized by MCSP in collaboration with the Kogi State Ministry of Health. The training helped 22 health workers, including Mariam, gain skills in Helping Babies Breathe, Essential Care for Every Baby, and Essential Care for Small Babies.
At the training, Mariam handled a bag and mask for the first time – on an anatomical model. Soon after, with Dorcas's lifeless baby, she used the bag and mask on her first human patient. After ventilating him for about five minutes, the baby began to breathe and cry. She stabilized the newborn and provided other essential care to the delight of his relieved mother.
"If not for God and the nurse, my baby would have died," Dorcas said.
For Mariam, it was a moment of pride and gratitude: "I am proud of my achievement," she said. "I knew what to do because of MCSP's training."
She also thanked MCSP for donating the bag and mask to her hospital. The Program donated the lifesaving equipment and materials to 48 health facilities to complement the training of their workers and to set up newborn resuscitation corners in the hospitals. While targeting to set up newborn corners in 60 facilities, MCSP is also advocating to the governments of Ebonyi and Kogi States and hospital boards in the states to provide critical equipment and lifesaving commodities in all facilities across these states.
Mariam extols the ethos of the MCSP's leadership in Nigeria: if a patient is brought alive to a facility, they should leave alive. With births by skilled attendants in both Ebonyi and Kogi States increasing from 9,899 to 13,650 in two years, more skilled birth attendants like Mariam will make the difference between life and death in Nigeria.