Until the skills lab was refurbished a year ago, tutors at the Korle Bu Midwifery Training School in Accra, Ghana, delivered health care instructions using makeshift teaching aids and out-of-date materials. To overcome challenges posed by a large class size, Gifty Baidoo, Deputy Chief Health Tutor, had devised innovative instructional skills to ensure teaching was effective and students were able to ask questions.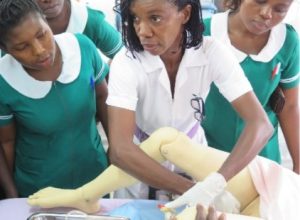 She had to divide her classes – averaging 100 students – into two lecture groups. She then selected a particular student to attend each lecture session to take notes and prompted other students to raise relevant questions. With this approach, Baidoo ensured lectures were standardized, allowing students to benefit from questions asked during each lecture and demonstration.
When she was a student, Baidoo remembers, there were more opportunities to interact with tutors and practice skills in a clinical setting.  "Now, with increasing student numbers, it is practically impossible," she says.
Thankfully, through MCSP support, all midwifery and community health nursing training schools in Ghana will be provided with fully equipped skills labs and linked into an eLearning platform to provide supplemental learning materials. The Program provides support to the Ministry of Health and Ghana Health Service to develop sustainable, cost-effective pre-service education interventions to ensure that nurses and midwives who graduate from health training institutions are prepared to deliver high-quality care.
In 2015, MCSP set up 12 skills labs in midwifery training institutions and plans to reach all midwifery and community health nursing schools in the country by 2019. The skills labs – prototype clinical settings populated with humanistic anatomical models – enable health tutors to demonstrate medical procedures and standards to student midwives and nurses. The eLearning program aims to address several challenges in the face of increasing student enrollment: infrastructure; limited number of tutors; far distances; and dated learning materials.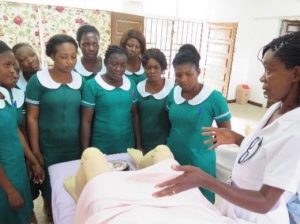 Now, to overcome the challenge of space, Baidoo and her tutor colleagues at Korle Bu no longer need to use improvised teaching and learning aids or resort to dividing classes into groups. The skills lab provides students an opportunity for firsthand practice on models before they are presented with a similar situation in the health facility.
Baidoo explains that these additional practice simulations boost the confidence of students and lecturers alike. "It gives the tutor the assurance that students would not go out there and mess up," she says, "because they know that the student has seen it before."