In a community hall in northern Tanzania, Marwa Saliro—a nurse from Murangi Health Center—reluctantly but gently pushed the lancet on the fourth finger of his first ever client, a fellow health provider. He was trying for the first time to test malaria with the low-cost but highly effective malaria rapid diagnostic test (mRDT) approach.
Using a clean stick obtained from the testing kit, he collected a drop of blood and placed it on a small well on the test device. Following procedures from the reference guide, he applied four drops of the malaria test reagent into the square well of the test device. After 15 minutes, Marwa was ready to read the results: it was negative.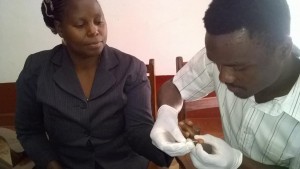 Every little step was an eye-opener to Marwa and the other health providers attending MCSP's malaria Rapid Diagnostic Test (mRDT) training for nurses and midwives in the Mara region. With funding from the President's Malaria Initiative through USAID, MCSP is working with the Tanzania Ministry of Health and Social Welfare to strengthen the skills and capacity of maternal and newborn health first responders. As a result, responders like Marwa are learning to promptly diagnose and effectively treat malaria cases and maternal anemia.
The course combines classroom instruction and diagnostic skills, enabling providers who are not laboratory technicians to get the hands-on experience they need to confidently perform the test on their clients. After the training, health providers are also better equipped to: provide intermittent preventive treatment with sulfadoxine-pyrimethamine (SP) for pregnant women; promote the use of long lasting insecticide treated bed-nets to their clients; and encourage pregnant women to attend antenatal care clinics at facilities.
"Before the training I thought my performance was fantastic while it was not," Marwa said. "I didn't know if SP prophylaxis could be administered with iron and folic acid supplements to pregnant women. I didn't know that giving 5mg of folic acid couldn't concurrently be given with SP as it counteracts the effectiveness of SP."
Since the program began in 2014, MCSP has equipped hundreds of health providers from supported facilities in Mara and Kagera regions with malaria in pregnancy skills. As a result, providers like Marwa are providing lifesaving malaria diagnostic and treatment and malaria prevention services for pregnant women in the two regions.