This post originally appeared on USAID's website.
August 2016—One morning in 2015, a mother brought her 9-month-old daughter to the Vumilia Dispensary, a health clinic in Tanzania's Tabora region. Tecra Chubwa, the nurse who oversees the facility, remembers the infant and her mother, and even remembers weighing the girl herself. But when she later reviewed the day's vaccination records, she discovered the child had not received the measles-rubella vaccine she was due for that day.
Chubwa was not deterred. She and a community health worker consulted records that contain health information on all of the children in the village, including details about the parents, where they live, and the names and contact information of local community leaders.
"Let's go to the village and find this child," said Chubwa, and the two set out to ensure that the girl received her vaccination.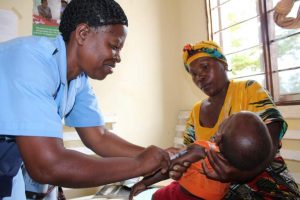 USAID is working with the Government of Tanzania to expand access to lifesaving vaccines in three regions that have disproportionately high rates of under-vaccinated and unvaccinated children. Around the world, 1.5 million children under the age of 5 die every year due to diseases that can be prevented by vaccination, and immunization currently averts up to 3 million deaths per year.
In Tanzania, USAID has helped train nearly 500 health providers, including Chubwa, in more than 400 health facilities on how to collect, plot, interpret and use health data that supports immunization efforts. Health providers use this information to assess the performance of facility immunization programs and to modify future planning based on their findings.
"Unlike in the past, we are now sitting together as a team to review our performance and order supplies before stocks run out," said Chubwa.
USAID has also helped train more than 800 community health workers who work alongside health providers to improve immunization services, expand outreach activities, educate parents on the importance of immunization, and identify and trace children who are due for their next vaccinations.
Chubwa and the community health worker at her side put their training to good use. They found the mother and her daughter, who were back at Vumilia Dispensary two days later. Chubwa promptly gave the infant the measles-rubella vaccine that she had missed and counseled her mother on the importance of vaccination in protecting against deadly disease.
As part of the U.S. Government's Global Health Initiative, USAID is building Tanzania's capacity to deploy more effective immunization services in the future so the health sector can better serve all Tanzanians. In the target regions where USAID is working, the number of unvaccinated children plummeted by 80 percent from 2013 to 2014. Better vaccine access has helped Tanzania reduce its infant mortality rate by 65 percent over the past 25 years.
By investing in immunization and other preventative care, USAID is paving the way to stronger and more resilient health systems for the future.
USAID's Maternal and Child Survival Program is a global effort to introduce and support high-impact health interventions with the ultimate goal of ending preventable child and maternal deaths within a generation. Tanzania is one of 25 high-priority countries under the program, which is introducing and scaling up sustainable interventions to increase use of services from the hospital to the community, and from pre-pregnancy through postnatal care.